Foreign Filipino(a) Pro- and Power players

| | | | |
| --- | --- | --- | --- |
| Phil Azkal NT News and Backgrounds for 2010/11 | | | |
Written by Administrator
Thursday, 05 November 2009 16:30
2011-01-23
MEGA FOOTBAL EVENT Feb 9 Bacolod PHIL NT vs Mongolia:
STATE PRESIDENT Aquino III will participate and ABS CBN will do LIVE coverage @7p.m.
http://www.philstar.com/Article.aspx?articleId=650088&publicationSubCategoryId=69
Feb 9, New PHIL NT german coach creaTed a list of players:
http://www.philstar.com/Article.aspx?articleId=650329&publicationSubCategoryId=69
2011-01-16
http://www.spox.com/de/sport/fussball/international/1101/Artikel/michael-weiss-philippinen-dan-palami-ruanda-eckhard-krautzun-alex-ferguson.html
2011-01-12
PFF made a swift and decisive move by hiring a new German mentor in Hans Michael Weiss.
2011-01-09
a) German DFB coach Michael Weiss new header of Phil Azkal NT!
b) UPDATES: 9 Fil Foreigners meT in Germany Frankfurt to apply for joining PHIL AZKAL NT for its AFC challenge cup game vs Mongolia Feb 9.
c) DFB want to help PFF in modernizing philfootball.
more in Forum... under Top Players!
This appears in the Monday January 10, 2011 edition of the Business Mirror.
Weiss in as Azkals coach by rick olivares
When the Philippine Men's National Football Team takes to the Panaad, Bacolod pitch on February 9, 2011 for the first match of the Asian Football Confederation Challenge Cup against Mongolia, they will do so with a new head coach and a different lineup.
Hans Michael Weiss, a 45-year old German national with a coaching resume that has seen him patrol football pitches from Japan to China to Rwanda, is now the head coach of the Azkals.
He replaces Simon McMenemy who during his four-month stint with the nationals steered them to a semifinals finish of the 2010 Suzuki Cup. McMenemy's lack of a "B' coaching license automatically eliminated him from continuing the job for the Challenge Cup where it is a requirement.
The Deutscher Fussball Bund got in touch with the national team management headed by Dan Palami even before the Azkals began their group stage stint of the Suzuki Cup in Vietnam to offer their help. But with the Suzuki Cup ongoing, Palami was unable to take up their offer until last week.
The Germans offered the services of any one of the three coaches, Weiss, Karsten Neitzel, and Lutz Pfannenstiel. Of the three Weiss tapped to coach the national team while Pfannenstiel, a goalkeeper, could possibly help out. He is the only professional football player in the world to have played on all six continents of the world and founded Global United FC, a team of ex-professional players who champion awareness of climate change.
While in Germany, the national team management met with several Fil-Germans who expressed interest in playing for the Philippines. They include brothers Manuel, Mike, and Marko Ott, Mark Drinkuth who was with the Azkals in the Vietnam leg of the 2010 Suzuki Cup, William Guerridoni, Oliver Potsche, Patrick Reichelt, Patrick Herget, and Ralph Koch. Fil-Dane Dennis Cagara was reported to express interest but there is the matter of his citizenship. Denmark does not allow dual citizenship and the question of his involvement remains unresolved. Palami said that he met Cagara's father, a fellow Leyte native like himself during the Christmas holidays last year.
Palami said that the results of the meeting with the DFB will be made known soon after meeting with PFF president Mariano "Nonong" Araneta today.
The team will conduct open tryouts for the national team on January 17-19 at the University of Makati from 4-6pm.
After the Panaad match with Mongolia, the Azkals will play an away game in Ulaanbaatar, Mongolia on March 15.
Posted by Rick Olivares
2010-12-29
PHIL NT GENERAL MANAGER Dan Palami announced to meeT 6 Fil-Foreign players on Jan6 by his visiT
in FANKFURT/Germany. Also a decison is expected in way of a Philippine National Team coach.
2010-12-24
MERRY CHRISTMAS TIME TO ALL AZKALEROS/-AS:
2010-12-23
MANILA, Philippines - Following a highly-respectable showing by the Azkals in the AFF Suzuki Cup and a change in the Philippine Football Federation (PFF) leadership that was recognized by the world body, Pinoy booters are looking forward to further breaking new grounds next year.
The Azkals, who made waves by surprisingly reaching the semis of the Suzuki Cup and making a gallant stand against powerhouse Indonesia on hostile ground, are poised to move on to the next battle ahead – the AFC Challenge Cup, the Southeast Asian Games, and the World Cup qualifier.

"It (Suzuki Cup campaign) is a step in the right direction," Fil-British goalie Neil Etheridge said during yesterday's PSA Forum. "We're disappointed that we failed to make the finals but we're now looking forward to future tournaments; there's so many competitions out there ahead of us."

The Azkals will get to play before their countrymen in February against Mongolia in the AFC Challenge Cup. Phl will host one game but newly recognized PFF president Mariano Araneta said the federation is asking for the second one, too, given the cold weather in Mongolia at that time.

To make the team more competitive for their 2011 assignments, team manager Dan Palami said the Azkals will hold tryouts for other interested players, be they homegrown or Fil-foreign booters based abroad.

"We're ready to step up to the challenges; You can expect a better Azkals team in the next tournaments," said Palami.

Meanwhile, Araneta vowed transparency in his administration after getting a letter of recognition from International Football Association (FIFA ) sec-gen Jerome Valcke. After consulting Association Committee chairman Geoff Thompson, the FIFA declared legitimate the Nov. 27 PFF Congress that ousted Jose Mari Martinez and installed Araneta.

"Rest assured we'll be very transparent and that the PFF will support coaches and FA's (football associations) in the provinces. We'll also organize under-16 and under-19 competitions on a national level next year," said Araneta who likewise plans to invite foreign teams to play against the Azkals to prepare them for their upcoming competitions.21 December 2010
By Cedelf P. TupasPhilippine Daily InquirerMANILA, Philippines —The Philippine football team will see action in three major tournaments in 2011, including the qualifying tournament for the 2014 World Cup in Brazil which the country is joining for the first time in more than a decade.The Azkals resume their campaign in February when they clash with Mongolia in a home-and-away tie in the Asian Football Confederation Challenge Cup qualifier.The home game will most likely be held at the Panaad Stadium in Bacolod on Feb. 9, but the Philippine Football Federation is also pushing to have the away game at Panaad because of the cold weather in Mongolia.Also lined up is the qualifying event for the 2014 World Cup and the Southeast Asian Games in December in Indonesia.The SEA Games is an Under-23 event and only six players from the senior team, including goalkeeper Neil Etheridge and Jason de Jong, will be eligible for the tournament.Given little chance because of their poor results in the past, the Azkals emerged as the surprise package of the Asean Football Federation Suzuki Cup, reaching the semifinals where they bowed to Indonesia.inquirer.net
2010-12-21
FIFA said "YES" to new PHILIPPINE FOOTBALL FEDERATION PRESIDENT Nonong ARANETA.
NATIONAL TEAM members WELCOMED this decision .. read more in SECTION: "PFF schedules, critic.."
Video and match summary of Indonesia game:

http://www.abs-cbnnews.com/sports/12/19/10/live-philippine-azkals-vs-timnas-indonesia
2010-12-19
VERY NICE GAME PHILIPPINES pressuring INDONESIA much
.. PHILIPPINES CHANCES TO SCORE bUT failed . very RESPECTFUL o:1 . PHILIPPINES can be VERY PROUD OF AZKALS which has shown a SUPER FIGHT! Indonesia was TIRED and glad game was over in advance to THEM.If PHILIPPINES could play HOME GAME sure INDONS could loose.Corrupt... Mr. PFF PRESIDENT MARTINEZ is VERY GUILTY that PHILIIPINES could not play in advance HOME FANS.
PHIL AZKAL NT game will be broadcasted 8 p.m. phil time about studio23 ABS CBN .
Internet access Live TV about www.bet365.com ( free reg. )
Livescores www.futbol24.com
2010-12-16
rickyolivares Rick Olivares
I am pleased to report that the Philippines will host the 2012 Suzuki Cup! Thanks to Nonong Araneta, Monico Puentebella & Ravy Khek.
from Tanah Abang, Jakarta Pusat
2010-12-15 WEDNESDAY
Football Fans: 8:00 PM-10:00PM, Thursday, Studio23. Live coverage of the Philippines vs Indonesia game.
Also www.BET365.com  ( FREE REG. ( ignore page 2 ))
LIVESCORES on : www.FUTBOL24.com
also in our Azkal Forum  ( AFF CHAMPIONSHIP )
2010-12-13
State President Ninoy Aquino throw in a ball in advance Phil NT :

Philippines NT decided to play 2 AWAY and AWAY games in Indonesia. PFF diselected PFF President Martinez was denied by Indonesia FF to participate in entrance fee in Indonesia .
Air fare and accomodation will be paid by Indonesia FF.
Philippines game will be shown LIVE in ABS CBN on 16 Dec. evening.
Background infos in our Azkal Forum ( Phili. National Team) and FACEBOOK ( search for PFSA ) :
2010-12-10
TOP NEWS VIETNAMESE FOOTBALL FEDERATION would WELCOME PHILIPPINE AZKAL NT in HANOI for PHIL NT HOME GAMES vs Indonesia ( 16 DEC. ) !!!!!!--
http://www.gmanews.tv/story/208061/p...in-ho-chi-minh

PFF accepts VFF offer to host 'home' game in Ho Chi Minh
12/10/2010 | 09:49 PM
The Philippine Football Federation (PFF) has accepted the Vietnam Football Federation's (VFF) offer to host the "home" game of the Philippines-Indonesia semifinal match in the AFF Suzuki Cup on December 16 in Ho Chi Minh.

"We have notified the ASEAN Football Federation (AFF) that the Philippines is accepting the offer of the Vietnam Football Federation as the venue of our 'home' game against Indonesia," PFF president Mariano Araneta said.
"We also notified the VFF beforehand that we are graciously accepting its offer to host this match at a neutral venue," said Araneta, who added that the federation was now awaiting the AFF's reply as of press time.

Araneta said that the decision to agree to Ho Chi Minh as the "home" venue was done in consultation with national men's team manager Dan Palami, who announced the offer Wednesday night at a press briefing shortly after the squad arrived in Manila.

"VFF president Nguyen Trong Hy flew all the way to Hanoi before we left to inform us that Ho Chi Minh is available for our 'home' game against Indonesia. The VFF offer was very generous" said Palami, who added that the VFF agreed to shoulder the expenses of the entire contingent during their three-day stay in the city formerly known as Saigon.

Palami said he was pleasantly surprised by the VFF chief's offer, considering that the Filipinos scored a 2-0 upset win over reigning champion Vietnam in the just-concluded Group B tournament held in Hanoi.

Despite the loss, Vietnam still emerged Group B champion after eliminating Singapore, 1-0, while the Philippines took second place, as both squads advanced to what were supposed to be home-and-away semifinal matches.

The AFF had issued a statement on Thursday that the Philippines would not be able to host or play a leg of its semi-final or possible subsequent final at a home venue since all fields in the country do not meet the requirements for the AFF Suzuki Cup.

The decision was done "after careful consideration and talks with the relevant parties," the AFF said.

It was then announced on the official Suzuki Cup website that both matches between Indonesia and the Philippines would be played in Jakarta.

"We are hopeful that the AFF will accept our proposal to have Ho Chi Minh as the neutral venue," Araneta said.

But Simon McMenemy, the Philippine team's English coach, said that not being able to play in the country was a "massive disappointment for both myself and the boys who worked so hard so they could play in front of their countrymen."

"It's painful and heart-breaking that we won't be able to play in front of Filipinos," said McMenemy, citing the match's importance not only for the team but also for the sport's status in the country.

"What a huge impact it would have been for Philippine football had we played here," said Filipino-British striker Phil Younghusband.

"Marinig mo lang ang mga kapwa mo Pilipino na sumisigaw para sayo, naka-aalis na ng pagod," added veteran Ian Araneta. – JVP/KY, GMANews.TV
Arrival of Philippine national Team in Philippines after achieving Semifinals AFF Cup .
Go here: http://www.abs-cbnnews.com/video/sports/12/09/10/azkals-arrive-rp
2010-12-09
PLEASE READ our FORUM ..for NEWS about PHILIPPINE NATIONAL TEAM and sign up the PETITION to play HOMEGROWN game in BACOLOD/PHILIPPINES !!!!
Thank you for understanding .. GO AZKALS!
Admin PFSA .. u can visit also our PFSA page in FACEBOOK..just search for PFSA .
PHILIPINE FOOTBALL HISTORY.. VERY HARD WORK but a o:o lead Philippine Azkal National Team to the SEMIFINAL
vs Indonesia in Manila /Bacolod ( Panaad )
HIGHEST SUCCESS ever of PHILIPPINE FOOTBALL.
PFSA ( Philippine Football &Sports Association Inc. )  
TONIGHT GAME will be aired LIVE in INTERNET: www.BET365.com
also TELEVISION: Studio23 will be airing the ASEAN FOOTBALL FEDERATION SUZUKI CUP -PHILIPPINES VS MYANMAR tonight, December 8, from 8:00 PM - 10:00 PM. and ESPN STAR TV !

more infos also about Facebookw/ actual VIDEO of NATIONAL TEAM PLAYER s
"Hello to the Azkal Fans "
view:
http://www.facebook.com/?ref=home#!/pages/PFSA-Philippine-Football-Sports-Association-Inc-/134476416607600
UPDATE 2010-12-05
FANTASTIC MOMENT in PHILIPPINE FOOTBALl HISTORY
Philippines won vs AFF champion VIETNAM ( 40 000 Fans ) 2:0.
Now LEADING the TABLE in GROUP B:
VIDEO: http://www.youtube.com/watch?v=X5kVGzqohZg
06 December 2010
McMENEMY: WE ARE ONLY THINKING OF THE NEXT 45 MINUTES
HANOI (6 Dec 2010) – The euphoria still lingers but as Simon McMenemy, the chief coach of the Philippines pointed out this afternoon at the pre-match Press Conference for the third match day of Group B of the AFF Suzuki Cup 2010, the team's main focus is on their next 45 minutes on the pitch - nothing else.
Philippines created the biggest.........upset at this year's tournament thus far when they beat defending champions Vietnam 2-0 last night here in Hanoi to at once take the lead in Group B and win one spot in the semi-finals of the tournament this year.

But as McMemeny pointed out, he is not even thinking that far ahead where his focus will be on Myanmar, more specifically on the first half of the match which will be played at the Hien Truong Stadium in Nam Dinh in two days.

"I've been smiling for the last 12 hours as things like this does not happen very often. But my main focus at this time will be against Myanmar where I'm not even talking about the semi-finals or where we will play – that does not interest me at this point" said McMemeny, who celebrated his 33rd birthday today.

"It will be another torrid time against Myanmar as they gave Vietnam and Singapore a tough fight. For us, we just would like the players to give 100% and if they can do that, it would have justified all the work which they have put in the last two games."

Added defender Rob Gier: "up until the kick-off last night, I was not feeling too well, I felt realy bad. But with the adrenaline from expecting the 40,000 screaming fans, it just pushed me forward. Even Phil (Younghusband) was not feeling too good. With the win over Vietnam, now we are preparing to face Myanmar next where the focus will surely be to finish at the top of the group."

For Myanmar on the other hand, the two defeats they suffered has just put them out of the running for a place in the next round with chief coach Tin Myint Aung having the unenviable task of lifting the morale in the team.

"The morale of the team is not at a good place at this time," quipped Myint Aung. "But we have to do everything possible to make sure that the team put up the best that they can and at least finish this group round on a respectable note.

"Philippines have improved a lot for sure and this can be seen in the last two games they played against Singapore and Vietnam. We have to seriously prepare for this match."

8 Dec Myanmar vs Philippines (1930hrs at Hien Truong Stadium, Nam Dinh) / Vietnam vs Singapore (1930hrs at My Dinh National Stadium, Hanoi)

STANDINGS

1. PHILIPPINES 4pts (+2)

2. SINGAPORE 4pts (+1)

3. VIETNAM 3pt (+4)

4. MYANMAR 0pt (-7)

Aseanfootball
Hanoi: Philippines coach Simon McMenemy was in a state of disbelief after seeing his team hand defending champions Vietnam a stunning 2-0 defeat in Group B of the AFF Suzuki Cup on Sunday evening at the My Dinh Stadium.
Chris Greatwich and Phil Younghusband scored the goals as the Philippines claimed their greatest win in recent history and remarkably moved to the top of the group standings ahead of Singapore on goal difference.

"I'm pinching myself, I'm not sure we have done what we have done," said McMenemy. "I keep thinking I'll wake up in bed in the Sheraton hotel and we'll still have the game to play.

"We knew we could defend, we knew we were disciplined enough but we didn't know if we could go up the other end and score goals. We knew that would be our issue so we worked hard in training on simple things like converting breakaways when we are on the run."

McMenemy hailed his team's performance but admitted to being bewildered by the result.

"I came in here the other day and said I was proud of my boys, but I don't know how we've done that," he said.

"That was an incredible feat considering they are the Philippines and where they have come from. To go and turnover a powerhouse like Vietnam is incredible.

"We rode our luck throughout the game but I said to the guys at halftime: 'You have to keep putting yourself in a position for good things to happen to you and you have to keep working hard'.

"If you keep working hard the luckier you get. We had three chances and scored twice. This won't sink in for quite a while."

Vietnam coach Henrique Calisto was angered by the nature of the Philippines' win and was heavily critical of the style of play used by the Filipinos.

"Football is not this, football is not putting eight players in front of the area with no offensive system," said the Portuguese coach. "They were fighting and I respect the players but if you think this is football then you are wrong.

"My way is different. You can play and lose but you can lose with honour. They put the bus in front of the goal and shoot, shoot, shoot and they pray. They didn't have an offensive system.

"I told my players that the Philippines defend very well but they don't care about counterattacking, they only pay attention in defence. Until you score one goal, our job is very difficult and I told the players that.

"If you look at possession of the ball, if you look at shots, if you look at crosses maybe there was 70 or 80 percent for Vietnam and 20 or 30 percent for Philippines.

"If they think they can win the championship based on that then poor football. If the Philippines think they can win playing that way then my dear, poor, poor football in this region."

affsuzukicup.com
04 December 2010
AFF Suzuki Cup : Vietnam - Philippines
Sunday 5. december :
Vietnam - Philippines
Match start : 12.30 GMT and 20.30 Philippines;
Tv : Star Sports in Philippines and other ASEAN countries
Livestream : www.bet365.com (register for FREE )
Livescore : www.futbol24.com and www.spbolive.com
Previous matches :
26. Jan 2000 : Vietnam - Philippines 3-0
19. Dec 2002 : Vietnam - Philippines 4-1

Update :
Chieffy Caligdong & Rob Gier are doubtful for the match vs Vietnam because of injuries.
Very sure filipino-german Agon o8 Duesseldorf player Mark Drinkuth will play.
2010-12-05
Hanoi: Chris Greatwich wrote his name into the history books of Philippine football when his dramatic late equaliser earned his side a shock 1-1 draw against three-time AFF Suzuki Cup winners Singapore on Thursday evening.

But while the result was seen as one of the biggest surprises in the history of the tournament, Greatwich and his team mates knew such an outcome was always possible.

"People didn't think we were able to get this kind of result," said the England-born midfielder.

"People outside of the camp will be surprised but those involved in Philippine football always thought that this kind of result was viable.

"But if we don't produce the goods in the next two games that result is irrelevant, so hopefully we can get a result against Vietnam."

The Philippines meet the tournament hosts at My Dinh before taking on Myanmar in their final game on December 8 and, thanks to the draw against Singapore, the perception of the team that came through the qualifiers has changed overnight.

However, Greatwich's goal bore all the hallmarks that the Philippines had displayed during the preliminary rounds of the competition.

Another injury-time goal from James Younghusband against Laos earned the Philippines a 2-2 draw in Vientiane, a result which ultimate ensured Simon McMenemy's side qualified for the finals for the first time since 2007.

Now the Philippines side are confident they can continue to improve and start to make an impact at South East Asian level.

"In the six years that I've been involved with the Philippine team, this is the best result that we have had," said Greatwich.

"The feeling was euphoric after we got that goal. It's the culmination of a lot of hard work, not just here but we have always been working towards this.

"We have been progressing and getting better and closing on the bigger powerhouses of the region. I think we can compete with these teams on this level and it's great for us to get this result."

Aseanfootball.org
2010-12-03
GREAT DAY for PHILIPPINES and PHIL FOOTBALL:
1:1 vs AFF SUZUKI CUP TOP FAVOURITe Singapore National Team !
Score in LAST MINUTE by CHRIS GREATWICH.
SUMMARY Video on : http://www.affsuzukicup.com/videos.html
02 December 2010
TEAM arrived well in VIETNAM STADIUM !!!
INFOS also in our FORUM
LIVE SCHEDULES :::::

02 December 2010
AFF Suzuki Cup : Philippines - Singapore
AFF Suzuki Cup in Hanoi

2. Dec Philippines - Singapore

Time : 10 GMT , 11 CET , 17.00 Vietnam and 18.00 Philippines

TV : Star Sports

Livestream : www.bet365.com
(need to register ignore page 2 of reg. page ( IGNORE PAYMENTS!) .. so FREE to WATCH LIVE !!!!!!!
)

AFC TV Pay TV from AFC , US $ 5

Other livestreams :
Myp2eu

Livescore : www.futbol24.com or www.spbolive.com

Bleachers Brew' blog from AFF Suzuki Cup

Visit Singapore football forum : Kallangroar
2010-Nov-30
PHIL NT arrived well in Hanoi !!!!! Duesseldorf player Marc Drinkuth will join the squad on THURSDAY !
29 November 2010
Star Sports will show Philippines matches in AFF Suzuki Cup.Livestream at www.bet365.com , same as in the qualifiers. Need to register but no payment needed.Livescores at www.futbol24 or www.spbolive.comFirst match 2. December Philippines - Singapore , 17.00 in Vietnam (18.00 in Philippines)
2010-Nov-28:
PFF NATIONAL TEAM OFFICE want to add MARK DRINKUTH from german club AGON04 Duesseldorf for AFF Suzuki Cup.
He should upfill the vacant position of Manuel Ott. Also again Ray Jonsson from Iceland pro-club Grindavijk FC
will join the Phil Azkal NT!
2010-11-27
BREAKING NEWS about NEW PFF PRESIDENT: NONONG ARANETA  new PFF PRESIDENT !

UPDATE 2010-11-27
TEST MATCH:
Philippines NT lost w/ his D-TEAM-SELECTION vs Nakhon Pathom FC (Thailand)
0-8 ! Sense was to give some local filipino players some tougher match experiences vs a pro club of Thailand.
LIVE TELEVISION BROADCAST !!!!!!
AFF Suzuki Cup 2010
Singapore vs. Philippines 5:55pm, December 02
Vietnam vs. Philippines   8:25pm, December o5
Live on Star Sports!
UPDATE 24 November 2010
Tune-up games await PHL eleven in Bangkok
The Philippine national men's football team left for Bangkok on Wednesday to play tune-up matches before plunging into action in the preliminary stage of the ASEAN Football Federation (AFF) Suzuki Cup 2010 in Hanoi, Vietnam.
The Suzuki Cup will be jointly hosted by Vietnam and Indonesia from December 2 to 9. Matches will be held at the Gelora Bung Karno and Gelora Sriwijaya stadiums in Jakarta and Palembang, and at Hanoi's My Dinh National and Hàng ??y stadiums.
Despite encountering problems during their training, like lack of a regular practice venue,the Nationals' American coach Simon Alexander McMenemy remains optimistic of their chances in the tournament AFF-organized tournament.

McMenemy said his wards face a tough campaign after being grouped with defending champion Vietnam, Singapore and Myanmar in Group B of the tournament that offers a total of $100,000 prize money.

"Realistically, we're the underdogs, with Singapore and defending champion Vietnam in the group," said McMenemy. "But anything we achieve in this tournament will be a bonus. It will be difficult because they are stronger and most of their players are full-time professionals,"

"We can beat Myanmar. We can gain three points against them and if we can be competitive against Singapore, then we have a good chance," added McMenemy.

"That will be the gauge," said MccMenemy. "It has to be a continuation of the good that this team has done during the qualifier."

Veteran players Ali Borromeo and Anton Del Rosario were also optimistic about their chances.

"We have to make a big impact against Singapore. If we can do that, then we have a good chance to advance," said Borromeo.

"Actually, we can match up with them. Our team is very passionate and we really want to do well," added Del Rosario. – JVP/KY, GMANews.TV
23 November 2010
Azkals get a boost for the upcoming Suzuki Cup
by rick olivares

The Philippine Men's National Football Team got a nice send off yesterday November 23, 2010 at the Philippine Football Federation (PFF) House of Football as Gatorade, the world's leading sports drink, came on board as a team sponsor on the eve of their participation in the Asean Football Federation Suzuki Cup 2010 that will be held in Hanoi, Vietnam from December 1-19.

"Having Gatorade behind us is literally a big boost for us," said an exuberant Dan Palami, the national team manager. "The press con, the media being present – I don't think this team has ever seen so many media persons in one room interested in writing about them – and having the backing of a multinational like Gatorade definitely lifts up our spirits."

"Football is one of our three priority sports for 2011," underscored Gatorade Brand Representative Ton Gatmaitan. "We are excited to be able to be behind not just the national team but also Philippine football in general. Not only will we provide them with powered Gatorade to last them from Thailand (where the team will train briefly) all the way to Vietnam but we will also have equipment such as coolers, towels, water bottles, and next year even sweat tests to determine a hydration plan for all of the players."

The Nationals qualified for the biennial tournament when they placed second in the Qualifying Stage last month in Vientiane, Laos. The Philippines beat Timor Leste 5-0 in its first match before they drew their final two matches against eventual group winner Laos 2-2 and Cambodia 0-0.

Laos and the Philippines will join the top six seeded ASEAN nations – Indonesia, Malaysia, Myanmar, Singapore, and Thailand – in a battle for the AFF Suzuki Cup trophy and US $100,000. The Azkals, as the nationals are fondly nicknamed, are bracketed with defending champion Vietnam, dangerous Singapore, and Myanmar.

"I'm expecting three very very tough games where we're the underdogs in every match." said head coach Simon McMenemy who had one international cap with Brunei as a contracted foreigner and was a former assistant manager with non-English Premier League team Worthing Football Club. "Being here is already achievement but were certainly not satisfied with that. We're in for a tough fight but if we start out well against Singapore in our opening match then who knows how far we can go? Anything we achieve in the tournament is a bonus. We know we are capable of beating the other teams. Whether that works in our favor on game day or not, without wanting to be very cliché-ish about it, football is a very strange game where the ball is round and anything can happen. The way the lads have been training, we are certainly capable of doing things."

"None of the other countries are expecting anything from us," noted team captain Alexander Borromeo. "We always play better when we're underdogs and we're in high spirits now so that has to be a good combination."

The composition of the national team is a balance of veterans like Emelio "Chieffy" Caligdong, Borromeo, Ian Araneta, Anton del Rosario, Phil and James Younghusband, Neil Etheridge, Matthew Hartmann, and Eduard Sacapaño; and newcomers Michael Atienza, Jerry Barbaso, Yanti Barsales, David Basa, Christopher Camcam, Jose Alfe Caminos, Joel Ballo-Allo, Jason de Jong, Mark Anthony Ferrer, Roel Gener, Robert James Gier, Peter Jaugan, Ray Anthony Jonsson, Manuel Ott, Ray Mark Palmes, Jose Paolo Pascual, Gino Angelo Pavone, and Kristoffer Relucio.

Assisting McMenemy is former Ateneo High School and Air Force coach Edwin Cabalida, Edzel Bracamonte, and Rolando Piñero as well as physiotherapists Walfred Javier and Josef Malinay.

The Philippines sees its first bit of action on December 2 when they go up against Singapore at 5pm at the My Dinh Stadium.

They play hosts Vietnam on December 5 at 730pm once more at the My Dinh Stadium before they close out their group stage assignment Myanmar of December 8 at 5pm at the Hang Day Stadium.

Bleachers' Brew
2010-11-22
INTERVIEW w/ PHILIPINE NATIONAL TEAM coach Simon McMenemy:
http://www.thesoccerlens.com/index.php?cID=162
17 November 2010
The national team will head to Thailand next week
For their preparations for December's Suzuki Cup, the national team will have a training camp in Thailand starting on the 24th of November up to the 30th. They will then head straight to Hanoi, Vietnam for their group matches against Singapore, Vietnam and Myanmar during the Suzuki Cup championships.
New FIFA World Rankings was released today. Philippines up 1 to number 151.

Highest FIFA Ranking ever !
14 November 2010
Indonesian media reported today that the friendlies against Philippines and Cambodia has been cancelled. Indonesia will try get other teams for friendlies but difficult now.

bolaindo
2010-11-13
Intensive reports running by german sports media about new players and headcoach of PHIL NT.
"nationwide speculations are in move if Lothar Mathaeus ( german worldchampion, Fifa awarded worldstar and professional DFB licensed coach ) like to be interested to join PHIL NT. We will report about phil football more in coop w/ PFSA Inc.  ", said sportjournalist Haruka Gruber.
A video of SUEDDEUTSCHE newspaper summarizes specultations: http://www.sueddeutsche.de/video/8268.html
Systematic search of players and coach about million of readers magazine: http://www.spox.com/de/sport/fussball/international/1011/Artikel/philippinen-spox-sucht-nationaltrainer.html
FURTHER: MANILA (12 Nov 2010) – In an effort to put more defensive cohesion into their game ahead of the AFF Suzuki Cup 2010 next month, the Philippines could not have chosen a better opposition than to take on Indonesia in a friendly to be played in Jakarta.
After some initial hiccup, the friendly match between the Philippines and Indonesia will take place on 16 November and will be played at the cauldron of the Senayan Stadium.

"We need to improve on our defence and it will be crucial to our AFF Suzuki Cup campaign to make sure that we seriously look to give more cohesion and understanding to our backline," said Simon McMenemy, the chief coach of the Philippines.

The Philippines emerged as the second best team at last month's AFF Suzuki Cup qualifiers – behind hosts Laos.

For the final round of the AFF Suzuki Cup 2010, the Philippines have been placed in Group B against hosts Vietnam, former champions Singapore and Myanmar.

In Group A are hosts Indonesia, Thailand, Malaysia and Laos.

In the meantime Nugraha Besoes, the secretary general of the Indonesia FA (PSSI) has confirmed that other than the match against the Philippines on 16 November, the Indonesia national team will play two other friendly matches.

They will take on Cambodia on 21 November at the Jakabaring Stadum in Palembang and then Chinese Taipei three days later at the same venue.

aseanfootball
2010-11-11
German TOP NEWSPAPER "SUEDDEUTSCHE"  reports about PHILIPPINE NATIONAL TEAM and the search for players/coach.
Philippine NT will fly to a INDONESIA TRAINING camp in 3 days.
Philippine NT will play a Friendly vs Indonesia NT on NOv. 16.
2010-NOV-06
Phil NT is searching for a new headcoach..  coaches w/ Asia B-License or higher and excellent english language can send inquiries to: This e-mail address is being protected from spambots. You need JavaScript enabled to view it . Coach job inquries will be send immediately to PFF NT Palami office in Manila.
FURTHER:
Phil NT will not play in INDONESIA a Friendly game, because of to less games in Indonesia. Phil NT
want to play more AFFSuzuki Cup preperation matches in coming days
02 November 2010
RP football team off to Hanoi tilt
The Philippines will compete in the Asian Football Federation Suzuki Cup main tournament next month in Hanoi, Vietnam. Previously in Laos, the Filipino football team routed Timor Leste, 5-0, before posting a draw with Laos and Cambodia to bag a qualifying berth in the eight-nation tournament. Team manager Dan Palami is implementing a rigid training routine to prepare his squad, which will play in a tough bracket that includes defending champion Vietnam, Singapore and Myanmar.
"We may not have the strongest team compared to other squads in Hanoi but we can assure you we will prepare the team the best way we can," said Palami, noting the coaching staff, would be flying to Hanoi on November 4. (???)

Team captains Aly Borromeo and Chieffy Caligdong believes their squad can pull off an upset in Hanoi Palami said Indonesia has extended an invitation to play in a friendly match with the RP team in Jakarta on November 15.
JOSEF T. RAMOS

Manila Times
2010-10-29
PhilNT arrived back in Manila well.. players will do a short vacation timebefore preperation starts for AFF Suzuki Cup
group B in Vietnam !
2010-10-25

PHIL AZKAL NT achieved FINALS AFF CUP ROUND in VIETNAM/Hanoi begin of December !!!! !!!!! schedules/inFos of PHIL NT also on AFF Suzuki Cup 2010
MORE ACTION FOTOS by vomber in our Forum !!!!!!.
UPDATE 2010-10-26
PHILIPPINES did qualiFy for AFF SUZUKI CUp FINALS  !!!!!..
thru a scoreless oo  vs Cambodia ,
even PHILIPPINES had many chances to score in last minutes.. but were not concentrate enough.
CONGRATULATION for a VERY SUCCESSFUL TOURNEY !!!!!!
MATCH REPORT:

VIENTIANE: Philippines booked their spot in the group stage of the AFF Suzuki Cup 2010 after holding Cambodia to a goalless draw at the National Sports Complex in Vientiane on Tuesday.
Needing only a point to assure themselves of a top-two finish in the qualifying competition, the Pinoys rode their luck in the first half as Sun Sopanha and Khoun Laboravy both hit the woodwork for Cambodia.

With neither side able to break the deadlock, both teams finished the qualifiers with five points although the Philippines enjoyed the better goal difference.

Cambodia still had a chance to qualify but their hopes were ended when Laos thrashed Timor Leste 6-1 in Tuesday's later game to eliminate their Indochinese neighbours.

Laos will now face hosts Indonesia, Thailand and Malaysia in Group A in Jakarta while Philippines will meet defending champions Vietnam, Singapore and Myanmar in Group B in Hanoi.

With so much at stake, both teams began the match in a cautious manner with Philippines enjoying the better of the early chances.

A deep cross from the left by Ray Jonsson in the 15th minute just failed to pick out an unmarked Ian Araneta, while Phil Younghusband should have done better when he fired wide of the left upright three minutes later.

Cambodia gradually asserted themselves and went close to breaking the deadlock in the 28th minute after they were awarded a free-kick near the left by-line for a foul on Khim Borey. Despite the narrow angle, Sopanha went directly for goal and his shot cannoned back off the left upright.

Five minutes later, the Cambodians were awarded another free-kick, this time on the right edge of the Philippines box for David Basa's trip on Keo Sokngon. With the Philippines defence anticipating a cross, Laboravy nearly caught them out by blasting his effort against the crossbar.

The ball rebounded to Kouch Sokumpheak but the striker sent his header straight into the grateful arms of goalkeeper Neil Etheridge.

The Philippines defence was nearly caught out by a long through ball to Borey four minutes into the second half. Etheridge came out of his box and just managed to get to the ball as the Cambodian midfielder attempted to round him.

Cambodia intensified the pressure and Sokumpheak should have given them the lead in the 62nd minute when he missed the ball with an airshot after being found completely unmarked in the Philippines box by Sophana's cross from the right.

A minute later, Sokumpheak just failed to get the telling touch again after he was found at the near post by Borey's centering pass from the left byline.

Having survived those scares, the Pinoys were able to turn aside whatever the Cambodians could throw at them in the remaining minutes.

They could even have grabbed a winner as Phi Younghusband forced a fine diving save out of Cambodian goalkeeper Ouk Mic in stoppage time.
TOP NEWS: Jason de Jong can NOT play v CAMBODIA ( 2 yellow cards ), James Younghusband and for sure also former injured player CHIEFY Caligdong can play  !!!!!!!
LIVE TV

PHILIPPINE GAME vs Cambodia ( 5 p.m. PHILIPPINE TIME ) will be shown LIVE about www.BET365.com...
REGISTER your name and PASSWORD.. BE CAREFULL .. NOT COMMIT ANY PAYMENTS ( you will be accepted w/OUT PAYMENTS .. just ignore PAYMENT WEBSITE by YOUR REGISTRATION !!! ).. THEN u can WATCH LIVE TV PHILIPPINES vs LAOS...
PEOPLE who noT like REGISTER can follow up LIVE SCORES in our FORUM  ( only 2nd HALF  TIME ) !!!!!!!!!!!!!!!!..
also about www.FUTBOL24.com
25 October 2010
Preview - Philippines v Cambodia
VIENTIANE: Philippines may only require a point on Tuesday against Cambodia to progress to the group stage of the AFF Suzuki Cup 2010, but coach Simon McMenemy insists that his side will not be approaching their final qualifying match with a defensive mindset.
James Younghusband's last-ditch equaliser in a 2-2 draw with hosts Laos on Sunday sent the Pinoys back to the top of the qualification group,ahead of Cambodia on goal difference. With the top two progressing to the group stage, they need only to avoid defeat at the National Sports Complex in Vientiane to advance.

McMenemy, however, does not want to allow his charges to sit on their advantage.

Said the Englishman: "It was a crucial goal at the end of the match against Laos. We deserved it and in the bigger picture, it made a significant difference for what we need in our final game in order to qualify for the group stage.

"However, we do intend to go into the game with Cambodia looking for a draw. We want to win."

While disappointed with his side's first-half performance against Laos, McMenemy was pleased with the grit and determination that his players showed in battling back from a two-goal deficit.

"I felt that we were deserving of a point and you can see a lot of improvement in the players. In the past, Philippines footballers have been criticised for not showing too much passion. If the team was losing by two goals, they were unlikely to come back from that position.

"But we have been working on our team spirit and the players showed after half-time that they were not prepared to lie down and fought until the very end. I'm very pleased with the passion and endeavour that they showed.

Emelio Caligdong was stretchered off after taking a kick to the inside of his thigh in the first half but McMenemy believes that he should be ready for Tuesday's match.

"He's feeling very sore right now but we will put him his paces in training and he should be okay," McMenemy explained. "He's like rubber so he should bounce back quickly."

Cambodia have lost their last two AFF Suzuki Cup meetings with Philippines, going down 0-1 in Bacolod in the 2007 qualifiers and 2-3 in the Phnom Penh two years ago.

And despite his side's morale-boosting 4-2 victory over Timor Leste on Sunday, coach Lee Tae-hon acknowledged that it will be a much harder task to break down the well-built and well-drilled Filipinos.

"Philippines have a good team and they are also strong physically," said the South Korean.

"However, we have a determined side who want to win. I will prepare them as well as possible and I have strong confidence that they can get past this qualifying round."

The winners of the match will top the qualifying group regardless of the result of Tuesday's later game between Laos and Timor Leste.

aseanfootball.org
2010-10-24
PHILIPPINES draw  LAOS 2:2 ( o:2 )
GOALS : PHILIP YOUNGHUSBANDS ( PENALTY 75 min. ) , JAMES YOUNGHUSBAND ( 94 min )
VIENTIANE (24 Oct 2010) – Philippines battled back from a two-goal deficit to hold hosts Laos in a gripping encounter at the National Sports Complex Stadium here tonight. With time on the scoreboard up, James Younghusband rose high to nod in the equaliser to keep alive his team's hopes of advancing to the final rounds of the prestigious AFF Suzuki Cup 2010.


YOUGHUSBANDS PROPEL PHILIPPINES TO THE TOP



Laos had taken a two-goal lead at the break with superb strikes from Soukaphone Vongchiengkham and Kanyala Sysomvang in the 29th and 41st minutes. But the Philippines had other plans and clawed their way back into contention with a penalty from Philip Younghusband in the 76th minute. That goal provided the fuel that was needed to fire up the Filipinos. And in deep in extratime, the older Younghusband notched the second goal.

The Philippines, top of the standing with four points, still have a tough journey to the final rounds as they now have to beat Cambodia, who earlier today defeated Timor Leste 4-2. Laos, currently third in the standings, have an easy tie against Timor Leste in their last match on Tuesday.

The two final matches will be a thrill as Cambodia and Philippines try to outdo each other while Laos will attempt to score more than two goals to ensure they make it through.

"We were a little over-confident at the start. As such, in the first half we put ourselves in a very difficult position," said Simon McMenemy, the chief coach of Philippines. "But were a lot better in the second half and the penalty turned the game for us."

Philippines fielded the same players they did against Timor Leste two days ago but their hopes that the winning lineup would deliver the goals failed miserably in the first half. Despite the obvious difference in physique, the Laos players kept the ball low and used their speed to their advantage.

In the 19th minute, Laos were celebrating after Soukaphone forced in the opener during a scramble in front of goal. Philippines keeper Neil Etherige protested that the ball had not crossed the line but the referee ruled otherwise.

The goal fired up the Laos players and they went hunting for more goals. With the 2,000 over fans cheering them on, the home boys almost doubled the score in the 33rd minute but Kanyala's shot found the side-netting.

Kanyala was leaping in joy in the 41st minute as his thundering drive screamed into the top corner beyond the reach of the Filipino keeper. In the dying minutes, goalscorers, Soukaphone and Kanyala, had brilliant chances but were just off the mark.

"It was always going to be tough and hard and for all the pressure they put on us, I felt that we coped well," added David Booth, the chief coach of Laos.
"But the penalty turned the game against us and that was the turning point which led to the draw."

TEAMS

Philippines: Neil Etheridge (GK), Robert Gier, Anton Del Rosario, James Younghusband, Manuel Gelito Ott, Philip Younghusband, Alexander Borromeo (cpt), Emelio Calidong (David 32nd), Jason De Jong, Ian Araneta, Ray Jonsson
Subs: Eduard Sacapano (GK), Roel Gener, Yanti Armentia Barsales, Mark Ferrer, Nestorio Margase, Joebel Bermejo, David Basa
Coach: Simon Alexander McMenemy
Scorers: Philip Younghusband (76th – pen), James Younghusband (94th)
Yellow: Jason De Jong (16th), Neil (30th), James (42nd), Manuel (60th), Anton (90th)
Red:

Laos: Sengphachan Bounthisanh (GK), Saynakhonevieng Phommapanya, Kitsada (c), Ketsada Souksavanh, Lamnao Singtao (Khampeng 90th), Kanlaya Sysomvang, Keoviengphet Lithideth, Kaysone Soukhavong, Konekham Inthammavong (Phatthana 67th), Kovanh Namthavixay, Soukaphone Vongchiengkham (Visay 83rd),
Subs: Seng Athit Somvang (GK), Visay Phapouvaninh, Manolom Phomsouvanh, Viengsavanh Sayyaboun, Khamla Pinkeo, Phatthana Syvilay, Khampeng Sayavutthi

Coach: David Booth
Scorers: Soukaphone (29th), Kanyala (41st)
Yellow: Kanyala (18th), Konekham (61st), Kitsada (75th), Saynakhonevieng (77th)
Red:



Referee: Mongkolchai Pechsri (Tha)
Assistant 1: Preecha Kangram (Tha)
Assistant 2: U Aung Moe (Mya)


DAY 1 RESULTS

Timor Leste 0 Philippines 5

Laos 0 Cambodia 0

TODAY'S RESULTS

Cambodia 4 Timor Leste 2

Philippines 2 Laos 2


REMAINING FIXTURES

Oct 26: Philippines vs Cambodia (1600hrs) / Laos vs Timor Leste (1830hrs)


ABOUT LIVE TV

PHILIPPINE GAME vs LAOS will be shown LIVE about www.BET365.com... REGISTER your name and PASSWORD.. BE CAREFULL .. NOT COMMIT ANY PAYMENTS ( you will be accepted w/OUT PAYMENTS .. just ignore PAYMENT WEBSITE by YOUR REGISTRATION !!! ).. THEN u can WATCH LIVE TV PHILIPPINES vs LAOS...
PEOPLOE who noT like REGISTER can follow up LIVE SCORES in our FORUM  !!!!!!!!!!!!!!!!..
also about www.FUTBOL24.com
23 October 2010
AFF Suzuki Cup - Philippines vs Laos
AFF Suzuki Cup Sunday :

Cambodia - Timor Leste , 4 pm Laos times (5 pm Philippines)

Philippines - Laos , 6.30 pm (7.30 pm Philippines)

VIDEO Livestream : maybe : http://www.oneview.com/url/24043092/
http://www.livestream.com/laostarchannelusa
or
www.bet365.com , (need to register but you dont have to pay) bet365.com showing both matches

Other possible livestreams : myp2eu.com , atdhe.net or rajangan.net

Livescores in our FORUM !!!!!!!  or  futbol24.com and spbolive.com


22 October 2010
VIENTIANE (22 Oct 2010) – Ian Araneta netted a hat-trick of headers as Philippines enjoyed a perfect start to the 2010 AFF Suzuki Cup qualifying round with an emphatic 5-0 victory over Timor Leste at the National Sports Complex in Vientiane on Friday.
Philip Younghusband converted a penalty and Anton Del Rosario

was also on target for the Filipinos, who raced into a four-goal lead by half-time before easing up against the Timorese in the second half.
HINT : LIVESCORES_TICKER  of AFF SUZUKI CUP in our PFSA FORUM or click here:
http://cebufa.org/forum/index.php?topic=352.msg5001#new
Philippines had won all three previous meetings between the two sides in the AFF Suzuki Cup but they could have fallen behind after three minutes when Quito squandered a golden opportunity for Timor Leste, blasting over with only goalkeeper Neil Etheridge to beat.

But Philippines soon took control with Del Rosario blasting wide in the eighth minute and Philip Younghusband thumping a header against the Timor Leste woodwork in the 20th minute.

The deadlock was finally broken in the 27th minute. Timor Leste goalkeeper Diamentino Leong missed a cross from the left which found an unmarked Emelio Caligdong in front of goal. His scuffed shot was cleared off the line by a defender but ricocheted straight to Araneta, who put the ball into net with a diving header.

The Pinoys extended their advantage three minutes later when James Younghusband was brought down in the Timor Leste box and his brother, Philip, stepped up to send the resulting penalty into the top left corner of the net.

Del Rosario duly made it 3-0 two minute after that when he met James Younghusband's cross from the right with a glancing header that Leong was unable to keep out despite getting a hand to the ball.

Phil Younghusband then set up the fourth Philippines goal in the 40th minute, lofting in a ball from the left edge of the box that Araneta rose to head past the advancing Timor Leste keeper.

Araneta completed his hat-trick in the 57th minute when he was found unmarked in front of goal by James Younghusband's knock-down and easily nodded the ball past Leong.

Timor Leste pressed forward in search of a consolation goal but squandered their best opportunity in the 72nd minute when Eusebio burst clear and tried to round Etheridge, only to be denied by a superb stop by the Philippines goalkeeper.

Araneta went close to bagging a fourth 12 minutes from time with a header that rocked the crossbar.Two years ago, the Philippines struggled to edge Timor Leste 1-0 in the AFF Suzuki Cup qualifying tournament. Today, in the same qualifying event at the National Sports Complex Stadium here, the Filipinos were four-goals up at the break. By the end of the match, the Philippines celebrated a convincing 5-0 win over Timor Leste in the opening game of the AFF Suzuki Cup 2010 Qualifying Round. Striker Ian Boyana Araneta
led the Filipino charge today and blasted a hattrick while Philip Younghusband and Anton Del Rosario helped complete the rout. The Philippines have come here very well prepared and aiming to make the final cut. After today's solid performance, their dream could well become a reality when this tournament ends next week.However, the Philippines will have to secure good results against hosts Laos in two days and Cambodia on Tuesday, if they are to advance to the Finals in December. And the truth is the matches against laos and Cambodia will be their toughest here. "It was a good start and I was pleased with their performance. We created chances and did not allow them the chance to move forward," said Philippines coach Simon McMenemy. "We have to prepare for the second match which will be a lot harder." Like Philippines, Timor Leste's remaining matches are against Laos and Cambodia. The Timorese will have to get their act together if they hope to keep alive their chances, which at this stage are very slim indeed.Even before the game kicked-off today, the Philippines looked confident and it showed soon after the game began. The Filipinos charged up and started looking for ways through the defence. It did not take long as nine minutes into the game, the lanky James Younghusband saw his header saved and his ensuing shot pushed out by the keeper.A freekick from James in the 20th minute found skipper Alexander Borromeo, whose solid header struck the crossbar. The inevitable happened six minutes later when Ian Araneta nailed a rebound from a shot from teammate Emelio Caligdong.Under pressure to keep the Filipinos at bay, the Timor Leste players grew desperate and a heavy tackle from a defender saw referee Leow Tham Hoe award a penalty in the 30th minute. Philip Younghusband, brother of James, saw his thundering shot hit the underside of the crossbar and bounce into goal.Philippines were not done yet and reeled in two more goals through Anton Del Rosario and Ian in the 32nd and 41st minutes.There was no stopping Ian and he went on to complete his hattrick in the 57th minute.Timor Leste has a few breaks but they failed to take their chances. In the 74th minute, Timor had a great chance when Eusebio Almeida split through the defence. He tried but failed to beat English Premier League keeper Neil Etheridge who plucked the ball from Eusebio's feet.TEAMSTimor Leste: Diamantino Leong (GK), Lamberto Gama, Miguel Soares, Helder Ricardo (c), Eusebio De Almeida, Joao Pereira, Emilio Da Silva, Chiquito Do Carmo (Cipriano, 62nd), Zeferino Martins, Anggisu Barbosa, Vicente Freitas (Marcelino, 70th). Subs: Leonel Da Silva Araujo (GK), Elijeu Soares, Juvitu Da Silva, Salvador Carlos, Cipriano Branco, Marcelino Fernandes, Carlo XimenesCoach: Pedro Correia De AlmeidaScorers: Yellow: Helder (63rd), Cipriano (65th), Lamberto (72nd), Emilio (91st), Joao (92nd)Red: Philippines: Neil Etheridge (GK), Robert Gier, Anton Del Rosario, James Younghusband (Joebel, 72nd), Manuel Gelito Ott (Nestorio, 80th), Philip Younghusband (Yanti, 65th), Alexander Borromeo (c), Emelio Calidong, Jason De Jong, Ian Araneta, Ray Jonsson Subs: Eduard Sacapano (GK), Roel Gener, Yanti Armentia Barsales, Mark Ferrer, Nestorio Margase, Joebel Bermejo, David BasaCoach: Simon Alexander McMenemyScorers: Ian Boyana Araneta (27th, 41st, 57th), Philip (30th-pen), Anton Del Rosario (32nd) Yellow: Jason (53rd), Robert (83rd)Red: Referee: Leow Tham Hoe (S'pore)Assistant 1: Preecha Kangram (Thai)Assistant 2: Loung Lath Somphayanh (Lao)affsuzukicup
21 October 2010
AFF Suzuki Cup ready for blast off
Hosts Laos, Cambodia, the Philippines and Timor Leste will battle it out for two spots in the AFF Suzuki Cup at the round-robin qualifying tournament, which kicks off on Friday (October 22).
The Philippines take on Timor Leste in the opening game at the National Sports Complex in Vientiane followed by what promises to be a cracker between Laos and Cambodia, the two qualifiers in 2008.

Cambodia only squeezed into the finals two years ago as they scored more goals in their four matches than the Philippines after both teams finished equal on seven points.

The Philippines will be hoping that they have enough firepower this time around to prevent a repeat of their anguish in 2008.

They were given a boost ahead of the qualifiers with a 5-0 win over Macau in a warm-up match with striker Ian Araneta scoring a hat-trick.

The win came after a 4-2 loss against Hong Kong and a 1-1 draw with Chinese Taipei in the four-team Long Teng Cup staged in Kaohsiung. Hong Kong won the tournament with the Philippines coming in third on four points.

The Philippines go into the qualifiers with experience in key positions. Defender Anton del Rosario, midfielders James Younghusband and Emilio Caligdong and Aly Borromeo all played in the 2007 AFF Suzuki Cup when the Philippines recorded a surprise 0-0 draw with Myanmar in a group match.

They have also been encouraged by the arrival of first choice goalkeeper Neil Etheridge, who has been released by English Premiership side Fulham where he is currently back-up to Australian Mark Schwarzer.

Cambodia go into the qualifying tournament on the back of two draws with club sides that had coach Lee Tae-hoon lamenting the lack of team work.

"Most of you played like individuals, and in a team game like football it doesn't help if you are on your own," he told the squad after the 0-0 draw with Preah Khan Reach.

Lee was happier with the 1-1 against Police Commissary that was abandoned after an hour because of heavy rain.

"I feel the side will perform well in Laos. This result really doesn't matter," he said after watching striker Khuonla Boravy score the equaliser.

Laos will try and make home advantage pay as they bid to reach the finals for the second straight time with the under-23s run to the semi-finals of last year's SEA Games in Vientiane providing inspiration.

The Laotians topped the qualifying table with nine points in 2008 after three wins and a loss to Cambodia and produced some attractive football against Thailand, Vietnam and Malaysia in the finals before tiring and leaking goals in the last 30 minutes of their matches.

Timor Leste caused a shock by holding Cambodia to a 2-2 draw during the 2008 qualifiers but still finished bottom of the table after losses to Laos (2-1), the Philippines (1-0) and Brunei (4-1).

Their performances will be watched closely to see if they have closed the gap even further in the ensuing two years.

The winners of the qualifying tournament will play co-hosts Indonesia, three-time champions Thailand and Malaysia in Group A of the AFF Suzuki Cup from December 1-8.

The runners-up will meet co-hosts Vietnam, Singapore and Myanmar in Group B.

affsuzukicup
20 October 2010
Philippines jumped 13 places to number 152 which is Philippines highest ever position in FIFA World Ranking !FIFA.com
also: Phil NT had again 2 TRAING Session in Laos on good venues.. TMRW again 1 session.
All players feel okay!
FURTHER: AFC Challenge Cup - Philippines vs Mongolia !!
Kuala Lumpur: Defending champions DPR Korea were placed in Group D of the 2012 AFC Challenge Cup with Nepal, Sri Lanka and the winner of playoff 1.

The eight lowest-ranked teams out of 20, which entered the fray, will play off on a home-and-away basis and the four winners will qualify for the 16-team group phase.

Bhutan will meet Afghanistan, the Philippines will take on Mongolia, Chinese Taipei will face Laos, and Cambodia will lock horns against Macau in the play-offs to be played on February 9 and 16, 2011.


THE DRAW

Playoffs (February 9 and 16, 2011)

Playoff 1: Bhutan vs Afghanistan
Playoff 2: Philippines vs Mongolia
Playoff 3: Chinese Taipei vs Laos
Playoff 4: Cambodia vs Macau

GROUP STAGE (March 20-31, 2011)

Group A: Myanmar, Palestine, Bangladesh, winner of playoff 2
Group B: Turkmenistan, India, winner of playoff 3, Pakistan
Group C: Tajikistan, Maldives, winner of playoff 4, Kyrgyzstan
Group D: DPR Korea, winner of playoff 1, Nepal, Sri Lanka
2010-10-19
PHIL NT arrived well in 4,5 STAR HOTEL DON CHAN PALACE  (view PHOTO ) in Laos and had  also a good  warm up
TRAINING session!
2010-10-18
PHIL Men NT leaved Manila in direcTion Laos:
NEIL ETHERIDGE ( EPL FULHAM FC ) will add Phil NT and also Manuel OTT ( Bundesliga  Fc INGOLSTADT).
Read report about Neil and Manuel in our PHILIPPINE NT Forum Thread:
http://cebufa.org/forum/index.php?topic=45.416
2010-10-16
PHIL NT prepare-game vs APT Global Selection Team did not push through cause of heavy rain.
The game was concepted as warm up for AFF Qualifier.
BTW:
Phil NT coach Simon McMenemy gave an Interview to ESPN SPORTS:
Just read in our Forum: http://cebufa.org/forum/index.php?topic=45.416
13 October 2010
Philippines enjoy morale-boosting goal fest
The Philippines enjoyed a confidence-boosting 5-0 win over Macau in a warm-up match for their AFF Suzuki Cup qualifying campaign, which kicks off with a game against Timor Leste on October 22. A hat-trick from striker Ian Araneta and goals from midfielders James Younghusband and Emilio Caligdong secured the victory for the Philippines. The win came after a 4-2 loss against Hong Kong and a 1-1 draw with Chinese Taipei in the four-team Long Teng Cup staged in Kaohsiung. Hong Kong won the tournament with the Philippines coming in third on four points. The Philippines have a settled line-up ahead of the qualifying tournament involving hosts Laos, Cambodia and Timor Leste when the winnersand runners up will progress to the AFF Suzuki Cup finals in December. Defender Anton del Rosario, midfielders Younghusband and Caligdong and Aly Borromeo all played in the 2007 AFF Suzuki Cup when the Philippines recorded a surprise 0-0 draw with Myanmar in a group match. The Philippines failed to make it through to the finals in 2008 when Cambodia and Laos progressed but the results in the Long Teng Cup will have given them hope of qualifying this time around. Arguably the best result in the tournament was their 1-1 draw with hosts Chinese Taipei, Araneta securing the point with a goal deep in time added on. James Younghusband's brother Phil scored both goals in the loss to Hong Kong earlier in the competition. The Philippines showed a lot of spirit to fight back from two goals behind but went down to a couple of late strikes. affsuzuki.com
2010-10-12
PHILIPPINES  v Macau ...LIVE SCORES in FORUM ( LONG TENG CUP )..
PHILIPPINES winner 5:0 ..
MATCH SUMMARY: http://www.ctfa.com.tw/upload/zhtw/news_file/ctfa_news_278.htm
scorer: CHIEFFY Caligdong, IAN ARANETA, IAN ARANETA. James Younghusband. IAN ARANETA
3 TIMES ( "HATTRICK" IAN ARANETA )
65% POSSESION CONTROL in advance Philippines.
HONG KONG winner of DRAGON CUP after 1:1 vs TAIWAN in last match.
10 October 2010
Taiwan - Philippines 1:1

Team against Taiwan :

GK 22 Eduard Sacapano
DF 2 Rob Gier
DF 4 Anton del Rosario
DF 26 David Basa
DF 11 Alexander Borromeo

MF 14 Mark Ferrer , substituted in 57 th min
MF 7 James Younghusband
MF 17 Jason de Jong

FW 9 Yanti Bersales , substituted in 50 th min
FW 13 Emelio Caligdong, substituted in 79 min
FW 23 Ian Araneta ( scorer in 90 min. )
Subs
MF 6 Roel Gener ,in for Mark Ferrer in 57 th min
MF 10 Phil Younghusband , in for Yanti Bersales in 50 th min , substituted in 83rd min
DF 28 Kristopher Relucio in for Emelio Caligdong in 79 th min
MF 19 Nestorio Margarse in For Phil Younghusband in 83 rd min

Yellow card :
James Younghusband , 67 min
Nestorio Margarse , 78 min
Anton Del Rosario, 88 min

Attendance : 3000
Ball control :Taiwan : 51 % Philippines 49 %

More : Chinese Taipei FA match info
GOAL PHILIPPINESSSSSSSSSSSSSSSSSSSSS 1:1 vs TAIWAN NT

SCORE by IAN ARANETA ( AIR FORCE FC ) in 9o min.
Philippines made a  drawwwwwwwwwwwwwww...
GOOD SUCCESS    LIVE SCORES SUMMARY in our FORUM!

Long Teng Cup FORECAST10. October
17.00 Macau - Hong Kong U23
19.30 Philippines - Taiwan
Philippines - Hong Kong U23 - line-ups and match report
RP team line-up: (4-4-2) Sacapano; David Basa(RB), Rob Gier and Anton del Rosario (CBs), Jerry Barbaso(LB); James Younghusband(RM), Jason de Jong and Roel Gener (CMs), Chieffy Caligdong(LM); Aly Borromeo and Ian Araneta (FWs)
Subs: Phil Younghusband for Jerry Barbaso, others unknown

Hong Kong U-23 squad: Yehong Hui, Chen Weihao, Lai Wenfei, Diting Feng, Li Zhihao, Xu Shuai, Bairon Ze, Lo Kwan Yee, Ju Ying Chi, Chen, Chao Pengfei

Goals: Xu Shuai, Chen, Phil Younghusband(penalty), Phil Younghusband, Lo Kwan Yee, Ju GHK
Match report Usapangfootball
09 October 2010
PHIL NT LOST its Dragon (LONG TENG ) Cup game vs Hong Kong U23 2:4
Phil Younghusband scored 2 goals in 2nd half:
Philippines dominated d game .. BUT first 10 MINUTES and LAST 10 MINUTES AZKAL NT was UNCONCENTRATED.
PHILIPPINES did show much good CHARACTER after they were behind 2 goals after 1sT HALF.

heavy shower in in DRAGON CUP Taiwan... PHIL NT in BLUE JERSEYS !!!!!! ( pic : NATIONAL ANTHMN )
Long Teng Cup today :

Philippines - Hong Kong U23 , start 17.00 today .

Hong Kong leading 2-0 after first half , but Philippines have scored two goals in second half ! 2-2 and playing in second half.

Source : Hong Kong football forum..
2010-October-08
Match has been cancelled of heavy rain in Taiwan.
Hong Kong Fa confirm that the match will be played tomorrow 17.00.
2010-10-07
TOP NEWS: Jason de Jong can noT play game vs Hongkong .. he willl arrive SATURDAY, also RAY JONSSON can noT play coz of passport reason. . Air FORCE players plus TEAM MANAGER dan Palami arrived in Taiwan
Official poster of Longtan Cup (Dragon Cup)in Taiwan
Longtan Cup (Dragon Cup)
8. October
17.00 Philippines - Hong Kong U23
19.30 Taiwan - Macau

10. October
17.00 Macau - Hong Kong U23
19.30 Philippines - Taiwan

12. October

17.00 Philippines - Macau
19.30 Taiwan - Hong Kong U23

All matches in Kaoshiung , Taiwan (Chinese Taipei)
AUCKLAND, New Zealand (UFNews) - The first game of the Long Teng Cup tournament, between the Philippines and Hong Kong's U-23 squad, was stopped and postponed due to heavy rain.

The pitch was apparently flooded and forced the referee to stop the match at the 14th minute. The scores were still at 0-0.

The match will be played tomorrow at the same time and venue.

The starting line-up of the Philippines consisted of: goalkeeper Eduard Sacapano; defenders Aly Borromeo, Anton del Rosario, David Basa, Jerry Barbosa and Rob Gier; midfielders Roel Gener, James Younghusband and Nestor Margarse Jr.; while Ian Araneta and Chieffy Caligdong were the strikers.

It is unknown if whether the same line-up will be retained for tomorrow.

Usapangfootball
2010-10-05
NT news:
- 2 times training session per day
- most players feeling well , even non good food..change into another hotel tomorrow
- Philip Younghusband starts jogging
- Gino still sick
- Air Force players will join before october 8
- Jason de Jong will arrive tomorrow
2010-10-03
SUNDAY TEST GAME PHILIPPINE NT vs TAIWAN U21 OLYMPICS 0:1
Many chances for PHILIPPINES ( 7  high grade chances ) ..
PHILIPPINES GOALKEEPER RED CARD  and a PENALTY which was in advance TAIWAN OLYMPICS.
TAIWAN OLYMPICS only had 1 huge score chance !
PHIL NT dominated d game but lost unluckily!
Game was played 3 p.m. VERY HOT WEATHER !
2010-10-03
Philippines Men`s NT will play a friendly match in Taiwan sunday against Taiwan Olympic team (U21).
Match will take place In North Gate High School in Tainan County. This will be a warm up before 4 nations tournament (Dragon Cup) start on 8. October. Source : Taiwan FA
HINT: PHIL NT has only a 14 players cader.. Air Force players are missing, coz of AIR FORCE schedules .
PHIL NT coaching staff also not completed.
Phil YOUNGHUSBAND still ancle injured.Ray Jonsson will play for sure 1st game in advance PHIL AZKAl NT.
2010-10-02
MEN PHIL NATIONAL TEAM arrived well in TAIWAN.. TOMRROW  the FIRST FRIENDLY PREPERATION MATCH ! "AZKAL NT trained well in Taiwan", Phil NT newcomer Ray Jonsson ( borned in Cebu and Iceland Pro-Player )  said in an interview to PFSA Inc.! Ray will get his Phil updated passport mid of OC.
MANUEL OTT ( Bundesliga club FC Ingoslstadt ) will add the NT in LAOS. His club and school committed his availibility in LAOS through engagement of PFSA Inc. and PFF Consultant P.Weiler in close cooperation to PFF NT OFFICE.
28 September 2010
By FRANCIS SANTIAGO

MANILA, Philippines — "We are ready to rumble."

This was the message the officials and the players of the Philippine national football team want to deliver when they see action in the Suzuki Cup Asean Football Championship Qualifiers starting October 22 in Vientiane, Laos.
"We have a team that is ready to redeem Philippine football," said team manager Dan Palami in Tuesday's PSA Forum at the Shakey's U.N. Avenue in Manila.
Beefed up by at least six foreign-based players with Filipino roots, the national team is confident of it can pull off big wins in the tourney where they will meet Timor Leste, Laos and Cambodia.

The top two teams from the qualifying event will move into the main tournament in Vietnam and Indonesia.

The top team in the qualifier will join Thailand, Malaysia and Indonesia, while the runner-up will be grouped with Vietnam, Singapore and Myanmar.

"We're not just there to participate but to win," said Simon McMenemy, the new English coach of the national squad, who has served in various capacities in top clubs in England.

"The preparations have been superb the past 10 months. We have evolved as a team. The players who are fit, willing to play for each other, fight for each other and assist each other."

Manila Bulletin
2010-09-26
Philippines will be participating in a tournament at the National Stadium in Kaohsiung , Taiwan in October as a warm up before ASEAN qualifiers in Laos.

Matches :

8. October Philippines - Hong Kong U23 (Asian Games team ) 17.00
Taiwan - Macau 19.30

10. October Taiwan - Philippines 19.30
Hong Kong U23 - Macau 17.00

12. October Philippines - Macau 17.00
Hong Kong U23 - Taiwan 19.30
2010-09-25
THE Philippine men's football team left for Manila Friday afternoon more united, so inspired and rich in wonderful experience after holding a brief 10-day training camp in Davao City.The team's newly-acquired British coach Simon Alexander Mcmenemy said his players had really changed a lot and he was just happy to have them practiced in Davao."It's been great. The players have become very responsible and the team had been very competitive in the past three friendly games we played against the local teams here," Mcmenemy said in an interview at the Stadium Buffet Restaurant and Sports Lounge Friday morning.
Aside from having a great training, McMenemy said the team......had appreciated the warm welcome extended by the people, especially the football-playing children and their parents and friends.
"The friendliness of the people of Davao really helped the teams. There's been a fantastic reception wherever we go. Seeing a lot of children who welcomed us at Sakya Philippine Academy yesterday was very heartwarming. It was really a very good memory. With many enthusiasts and players here, football can really be very popular in this city," McMenemy said.
Filipino-British player James Joseph Younghusband echoed his coach, saying the Davao camp went very well.
"We're more bonded now. While before we just meet three to four times a week to train, spending 10 days with my teammates here helped us to know each other better. It's also amazing to see a lot of kids enthusiastic about football. I'm looking forward to come back," Yonghusband said.
His brother Philip James added, "It's been a good preparation we had here for our future international meet. We have become more united now as a team."
Philip also said the friendly matches also helped them in their preparations.
"I really didn't expect that the Davao teams we played here the past days were very competitive. I thought we would win against them with huge score difference but I was proven wrong. The Davao players are tough and they really work so hard, showing the real strength of the Filipinos," Philip Younghusband said.
"Davao has a lot of football enthusiasts including school kids. I think even my short times with them are my most memorable experience," he added.
Assistant coach Edwin Cabalida said he's happy that half-bred and Filipino players jelled together in an out of the field.
"We have been overwhelmed by the warm reception here as well. I've never been to a city where the national team would be mobbed for autographs and photo opportunities. We just experienced it here in Davao. Football is really popular here as it had been in Iloilo in the past," Cabalida said.
Team co-captain Emelio "Chipi" Caligdong said their games went well. "It was only the last game with Medvil though that we really played more intensely. Our experience here is a good preparation for our upcoming competition," he said.
"I've got to taste durian for the first time and I love it. It's so delicious. Tasting durian was my most memorable experience in Davao," Caligdong added.
Dipolog natives Jerry Barbaso and Michael Aubrey Atienza along with Iligan-born Kristopher John Relucio cited their zip line experience at Outland Adventure as unforgettable.
"It was our first zip line experience. It was so scary but we managed to cross and it was very fulfilling. In the hotel that we stayed, we were paired with half-bred Filipinos so we were able to bond more. It's been a great team building we have here in Davao," Barbaso said.
The team, managed by Dan Stephen Palami, is staying for five days in Manila before going to Taiwan for a series of friendly competitions. The nationals are preparing for their stint in the AFF Suzuki Cup Qualifiers in Vientiane, Laos on October 22 to 27.
Sun Star Davao
22 September 2010
Unofficial team list for Taiwan friendlies and ASEAN qualifiers
Robert James Gier ( Ascot United , England), Jason Nicolas Maria De Jong (Veendam, Netherlands),Manuel Ott (Ingolstadt 04, Germany),Ian Araneta (Phil Air Force),Yanti Barsales (Phil Air Force)
,Eduard Sacapano (Phil Army),Jerry Barbaso I (Global),Kristopher John Relucio,Anton Del Rosario (Kaya)
,Ruel Gener (Phil Army),Mark Ferrer (Phil Air Force),Peter Jaugan (Phil Air Force),Reymark Palmes (Phil Air Foce)
Nestorio Margarse (Phil Army),Michael Aubrey Atienza,Jose Alfe Caminos (Loyola)
,Christopher Nicholas Camcam (Kaya),Ray Anthony Jonsson (Grindavik, Iceland),Joebel Bermejo (Phil Air Force)
,Stephan Markus Schröck (Germany),Gino Pavone (Bay Area Ambassador, USA),Philip James Younghusband (ex Chelsea reserves)
,James Joseph Younghusband (ex Chelsea reserves),Chad Gould,Alexander Borromeo (Kaya),Emelio Caligdong (Phil Air Force)
Thanks to Usapangfootball for the list .
The Philippines National Team defeated Medvil FC 5 - 1 in their final match in Davao City. The RP scorers were Ali Borromeo (15' & 55'); James Younghusband (59'); Chieffy Caligdong (76'); and, Nestorio Margarse (90' + 1'). Allan Rey Fernandez scored the lone goal for Medvil in the (90' + 2) minute. Davao FA Facebook
2010-SEP-22
Phil NT won iT´s last friendly game vs Medil Fc in Davao 6:1. ( PFF NT OFFICE INFO )
Philippine NT started w/out striker Phil Younghusband ( smalll ancle injury..  read Forum ).
Again  the  PHIL NT defense received a goal through their opponents.
PHIL NT shot 21 goal and received 3 goals in 3 TEST GAMES!
2010-09-21 The Philippine National Team def. Hooligans FC (8 -2). RP Scorers: Emelio Caligdong (6'); Phil Younghusband (11' & 17'); Ian Araneta (22', 60', & 74'); Alfie Caminos (72'); and, James Younghusband (84'). Hooligans Scorers: Jet Fernandez (45') penalty kick from a hand ball off a defender; Joven Benitez (52'). Next game for the RP National Team will be on Wednesday, September 22, 2010 against Medvil FC ...... Result from Davao FA
19 September 2010
CORRECTION: PFF NT OFFICE said .. it was a 9:2 VICTORY !!!!!!!!
Philippines NT played a friendly in Davao today against Hooligans FC.

Philippines NT won 8-2. Phil Younghusband scored 4 goals according to John M. Atangan who played for Hooligans FC . John scored one goal for Hooligans FC.
Detailed match reports and opinions in PFSA Azkal Forum: http://cebufa.org/forum/index.php?topic=45.400
18 September 2010
Philippines Men`s NT won 6-0 today in a friendly against Seagull/Porky's Best Lechon in Davao.

Detailed match report in Forum: http://cebufa.org/forum/index.php?topic=45.400
Next match is on Sunday against Hooligans FC.
Today :

A clinic for youth players will be conducted at the Deca Homes Resort Residence Field in Tacunan on at 2:00 PM

Welcome Lunch hosted by Davao FA - at Deca Homes Resort Residence Club House in Tacunan

Sunday :Friendly match against Hooligans FC at 4 pm

Thursday 23 :Friendly match against Medvil FC at 4 pm
16 September 2010
The Philippine Men's National Football team is currently training in Davao City from September 15 - 24, 2010. This is the last stage of their training camp before competing in the Suzuki Cup this October in Laos.Included in their stint are three (3) games against the following Davao FA clubs: Seagull/Porky's Best Lechon(Friday September 17); Hooligans FC(Sunday September 19); and Medvil FC(Thursday September 23). All games will start at 4:00 PM.A clinic for youth players will be conducted at the Deca Homes Resort Residence Field in Tacunan on September 18 at 2:00 PM. On September 23(8:00 AM), a clinic for youth coaches will be held at the Tionko Field.

The itinerary:
Courtesy call to Mayor Inday Sara Duterte - September 17 at 1:00 PM
Welcome Lunch hosted by Davao FA - September 18 at Deca Homes Resort Residence Club House in Tacunan.

Official team line up for the Suzuki Cup

Neil Ethridge
Rober James Gier
Jason Nicolas Maria De Jong
Manuel Ott
Ian Araneta
Yanti Barsales
Emelio Caligdong
Eduard Sacapano
Jerry Barbaso I
Kristopher John Relucio
Alexander Charles Luis Borromeo
Anton del Rosario
Roxy Bongbong Dorlas
Ruel Gener
Mark Ferrer
Peter Jaugan
Reymark Palmes
Nestorio Margarse
Michael Aubrey Atienza
Matthew Hartmann
Jose Alfe Caminos
Christopher Nicholas Camcam
Ray Johnson
Joebel Bermejo
Ralph Koch
Stephan Markus Shrock (Schröck)
Gino Pavone
Philip James Younghusband
James Joseph Younghusband
Jerry Lucena

Coaching Staff

Simon Alexander McMenemy
Erwin Cabalida
Edzel Bacamonte
Rolando Piñero
Walfred Javier
Josef Mari Mahinay
Patrick Ace Bright
Chester Benedict Peliño
Richard Pacana
Franco Lorenzo
Dan Stephen Palami (manager)

Davao FA
RP booters train in Davao
By Marianne L. Saberon-Abalayan
THE Philippine men's football team opened its 10-day training camp in Davao City and will start off with friendly games and clinics on the side as the members prepare for the AFF Suzuki Cup Qualifiers set in Vientiane, Laos on Oct. 22 to 27.
The national team will play the Seagull-Porky's Best Lechon at 4 p.m. today at the Tionko football grounds, then battles Hooligans FC on Sunday. The team's next match will be opposite multi-titled Medvil FC on Sept. 23.
Medvil's prized goalkeeper Dominador Tato IV, an Emar student, will reinforce the national team during the friendly games.
British coach Simon Alexander McMenemy, gracing the regular Davao Sportswriters Association (DSA) Forum at the Tower Inn yesterday, said they are here to sharpen the skills of the players and at the same time let them enjoy football.
"For the past three weeks now, I've assessed our players and the coaching staff. We are doing great with our preparations. Holding camps in other cities like beautiful Davao helps us in creating a team environment and improve the team spirit," McMenemy said.
He said it is important for him that the players enjoy their training and bringing them in a new place is part of achieving that goal. He also would like the players to share good memories together while having fun playing football.
Team manager Dan Stephen Palami said that the team also held camps in Tacloban City and a brief stint in Cebu before coming to Davao.
"I must admit Davao is a great place for the team to train. There are not too many distractions just like in Manila," Palami said.
"We are not just here to play football though but we are also here to conduct kids and coaching clinics as part of our social responsibility. We want to inspire more children to get to play football," Palami added.
Team captain Alexander Charles Luis Borromeo said he's happy their preparations went full swing for eight months now.
"I've been with the team for six years and this is the only time that we experience a full preparation. The team is complete and is ready to play the best teams in the Qualifers like Thailand and Singapore. I think next month will be the real test on where these preparations are leading us," Borromeo said.
Assistant coach Edwin Cabalida said having started training the team since January was the longest preparation they ever had for a big event.
"Two years ago, we competed in the Suzuki Cup with only three weeks of training. We lost in our game and never got the chance to advance in the tournament at all. I am confident it will be a way different in Laos this time," the Filipino coach said.
Co-team captain Emelio Caligdong, a native of Iloilo, thanked Palami for all his support, saying that bringing McMenemy to the team made a lot of difference even for somebody like him who have been with the team since 2000.
Completing the team roster are Robert James Gier, Jason Nicolas Maria de Jong, Manuel Ott, Ian Araneta, Yanti Barsales, Eduard Sacapano, Jerry Barbaso, Neil Etheridge, Kristopher John Relucio, Anton del Rosario, Roxy Bongbong Dorlas, Ruel Gener, Mark Ferrer, Reymark Palmes, Nestorio Margarse, Michael Aubrey Atienza, Matthew Hartmann; Jose Alfe Caminos, Christopher Nicholas Camcam, Ray Johnson, Joebel Bermejo, Ralph Kock, Stephen Markus Shrock, Gino Pavone, Fil-British brothers Philip James and James Joseph Younghusband, Jerry Lucena and M'lang native Peter Jaugan.
McMenemy, meanwhile, said he will hold the free clinic for youth players on Saturday at the Deca Homes Resort and Residences (DHRR) soccer field at 2 p.m. and the coaches clinic on Sept. 23 at the Tionko field at 8 a.m.
The team will also pay a courtesy call to Davao City Mayor Inday Sara Duterte at 1 p.m. Friday.
Sun Star Davao
15 September 2010
Draw today in AFF Suzuki Cup 2010 (ASEAN Championship )
22. October Philippines - Timor Leste
24. October Philippines - Laos
26. October Philippines - Cambodia
Finals :
Group A
Thailand, Malaysia, Indonesia, Winners of Qualifier
Group B
Singapore, Vietnam, Myanmar, Runners up of qualifiers


Serious RP eleven training for Suzuki Cup
Cedelf P. Tupas INQUIRER MANILA, Philippines--The Philippines won't be fielding a hastily formed national team in its next major football competition. "It's a serious team we're building and in terms of preparation; it's probably the most well-prepared team we will ever have," team manager Dan Palami, who has been funding the RP team since late last year, told the Inquirer. The nationals, who began training in January, will next see action in the Suzuki Cup Asean Football Championship Qualifiers in Laos from Oct. 20 to 27.
In what could be the clearest indication yet of the renewed belief on the RP team, Filipino-British brothers Phil and James Younghusband have rejoined the squad after a two-year absence.
A former reserve at Chelsea Football Club in London, Phil is one of the top scorers of the squad from 2006 to 2008.
He had expressed misgivings over playing again because of issues hounding the Philippine Football Federation.
The Younghusband brothers reported for training last month, and Palami said the duo is close to hitting top form.
Another welcome news for the RP squad is the elevation of starting goalkeeper Neil Etheridge to the first team of English Premier League side Fulham FC.
Etheridge was a substitute in Fulham's 2-1 win Sunday over Wolverhampton.
Palami said that, while he reports to the PFF on the squad's progress and goes through it to communicate with foreign sides, he "independently" runs the squad.
Palami, the chief of Philippine Railways, also announced the appointment of British coach Simon McMenemy, who replaced Des Bulpin, now working for the Under-19 squad of India.
2010-09-10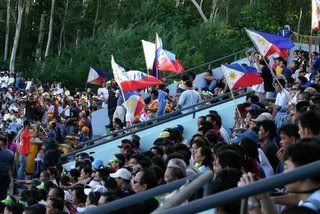 Phil MNT will fly to Davao on WEd Sept 15 and back to Manila on Sept 24 for the training camp before they depart to Kaohsiung, Chinese Taipei.
Schedule of games:
Oct 8     Hong Kong - China vs Philippines 17:00
Oct 10   Philippines vs Chinese Taipei  19:30
Oct 12   Philippines vs Macau - China
The team will play 1 friendly game before the tournament starts. The team leaves for chinese taipei on Oct 2
2010-09-06
( pic James Younghusband ( l.) and Philip Younghusband ( r. ) w/ Cebu formerNT player Mario Ceniza´s son Enzo Ceniza ! )

YOUNGHUSBAND BROTHERS kept up PHILIPPINE NATIONAL  TEAM TRAINING CAMPin Manila  to prepare for  SUZUKI CUP QUALIFIER.
BOTH players ( who resigned a while ago to play for PHILIPPINE NT because of PFF pres. MARTINEZ policy )  are now back.. said german PFF CONSULTANT Mr. ALFONS SCHUNK.
"They daily train and doing their skills" , he added. "NT general manager Mr. Palami made this decision".
BOTH BROTHERS played in PAST for RESERVE CHELSEA FC.
10-08-30
29 August 2010 SUNSTAR
By Noel S. Villaflor

SIMON McMenemy has roughly six weeks to prepare for his first international tournament as manager of the Philippine Men's National Team (MNT).
In an Aug. 25 article published on England's Worthing Herald (courtesy of a post from Filipinofootball.blogspot.com), the 32-year-old coach flew in last Monday to the Philippines for his new stint.

McMenemy will be on a two-month probation before signing a one-year contract, if things go well, the article said. The Englishman was the former assistant manager of Worthing Football Club, which plays at an eight-tier division in English football.

Following the unfortunate Des Bulpin experience, I am sure the National Team Management Office under football visionary Dan Palami has learned its lessons and will try its best to insulate McMenemy from the toxic elements of the Philippine Football Federation (PFF).

Earlier this month, Palami had told me that so far, the PFF has granted the management office's wishes for non-interference.

Hopefully, Palami, who is single-handedly financing the MNT, and McMenemy could forge a potent partnership within this two-month period for a decent showing at the AFC Suzuki Cup that kicks off Oct. 20.

Like McMenemy, another national team coach is looking at only a few weeks to before a big tournament.

Philippine Women's Under-16 Coach Leticia "Buda" Bautista is hoping to build a team for the AFC Qualifiers on Oct. 15.

She has conducted tryouts in Bacolod, San Carlos City and yesterday in Cebu. Today, she is flying to Davao.

So what does Buda think of yesterday's tryouts?

"The girls need to improve their basic skills," she said yesterday after the tryouts at the Aboitiz football field, adding that some of those who were technically sound were "inconsistent."

She was quick to add, though, that the girls' performance, given the short span of time to show their wares, could have been mainly due to "kaba" or nervousness.

Buda might be nervous herself with the tough international competition ahead of her.

By next week, she would have picked the members of the U-16 squad.

When I asked her of her expectations, her answer was grounded: "During the tournament, what we want is to control the games."

That meant not allowing the teams to dictate the tempo and to stop them from scoring.

Buda doesn't aim for the spectacular, but she pointed out that the U-16 selection serves a far-reaching purpose.

"With the core of the U-16 squad, we can identify U-14 players, and for the long term, the U-19," she said with a hint of optimism.

( This e-mail address is being protected from spambots. You need JavaScript enabled to view it )
2010-08-29
Philippine Men NT has a new head coach: mr. Simon Mc Menemy  from England !
Simon McMenemy new Philippines NT coach !!





FORMER Worthing Football Club assistant manager Simon McMenemy has gone from the dug-out at Woodside Road to become an international manager with Philippines in the space of four months.
McMenemy, who left Rebels with Simon Colbran at the end of last season after one year at the club, flew out to the Philippines on Monday after being offered the job just nine days earlier. He will be on a two-month probabtion period before, if things go well, he will sign a one-year deal.

The 32-year-old was manager at County League Haywards Heath before his spell at Worthing and, before the call, was going to be playing football for Franklands Village in the Mid Sussex League this season.

He said: "Haywards Heath to Worthing to the Philippines. It's quite a big step but I had to grab the chance.
"At 32, to call myself a national team manager is a massive statement.

"Things have gone 100 miles an hour. I've had nine days to prepare, my fiancée is coming out with me for the first two months, and everything has been very rushed. If I stopped to think about it, I might get cold feet. It's something I've got to do and there's no denying it will look fantastic on my CV.

"I'm stepping into the unknown. When I get there, I've got a four-week training camp, then we're off to Taiwan for a couple of weeks for a training camp and a couple of friendlies, then we're into qualifying for the Suzuki Cup, where we will play Laos, Cambodia and Timor Leste.

"If we get through that, then we'll come up against some of the bigger teams, like Malaysia, Indonesia and Thailand, so I could get to coach against Bryan Robson, which would be some experience."

McMenemy first heard about the job through Simon and Phil Greatwich, who played for Lewes and the Philippines, and they encouraged him to apply for the job.

Five weeks after applying, McMenemy heard back from the Philippines FA and after a couple of interviews over the phone and conference calls, he got the job. He said: "I'll be looking at the coaching when I'm there and will see if I can tweak anything to improve things and make it more effective.

"I've spent my fair share of time in the Far East, and got one international cap for Brunei, so I have some understanding of their style of football.

I've got two months to go out there and prove myself as an individual.
"I'm untested at this level and have to prove I can do the job."

Worthing Herald
2010-08-16
FIFA RANK PHILIPPINES NATIONAL TEAM MEN AZKALS : 165
FIFA RANK PHILIPPINE WOMEN NATIONAL TEAM : up 1 to  84
2010-08-08
A joyful day with NT players and kids from FCIC, Abellana and Humansportaid for Philippines e.V.
New Friendships were done and PHIL NT like visiting Cebu again in SEPTEMBER in Lapu Lapu !
07 August 2010
one of the football national team players who joined the Cebu Football clinic was NT captain Aly Borromeo,
who met some weeks ago former worlchampion and FiFA Vice President Franz Beckenbauer in South Africa during the World Cup.

Cebu Football - 120 kids join free football clinic
By Edri K. Aznar
FILIPINO and British volunteers and a few members of the RP National Football Men's squad held a free football clinic at the University of San Carlos Montessori football grounds yesterday.
More than 100 children joined the workout headed by team captain Ali Borromeo and 18 volunteers of Global Xchange (GX) program, a partnership of the British Council and VSO Bahaginan.

The one-day football clinic is part of GX's support for "1GOAL :Education for All," which was launched in line with the Fifa 2010 World Cup.

The objective of "1GOAL :Education for All" is to collect signatures from all over the world and to call on world leaders to fund the education of 72 million underprivileged children worldwide.

"We are calling on world leaders to use money wisely rather than use it on nuclear weapons," GX British volunteer Bridget Hutchings told Sun.Star Cebu.

The group has gathered 14,963,617 signatures since its website—www.join1goal.org—was launched.

Among the renowned footballers who have joined the cause are Brazilian legend Pele, French legend Zinedine Zidane, Portugal star Cristiano Ronaldo and Spanish ace striker David Villa.

"We are here to support and to let the people know that the Men's national team our aware of its social responsibility outside of football," said Dan Palami, the financier of the RP National Men's team.

Aside from Borromeo, other RP team members present in the free football clinic were midfielder Emelio Caligdong, goalkeeper Eduard Sacapaño and forwards Yanti Bersales and Ian Araneta.

"We had at least 120 participants, which is more than what we expected," said Filipino volunteer Karl Molina, who expected the event to be graced by only 50 footballers.

The GX volunteers along with a few Hiroshi members played against the RP national squad and its coaching staff in a friendly seven-a-side match to end the successful day.

Sun Star Cebu
2010-08-06
PHilippine Azkal NT will only come with 5 players, coaching staff and manager to Cebu Aug. 7.
WITHIN are Emilo Caligdong, Aly Borromeo, Ian Araneta.
2010-08-04
"PHIL NT will play in Cebu on Aug 7" ..  published a FAIR TRADE VOLUNTEER in an Email to PFSA:
Email published in FORUM !!!!!!!
http://cebufa.org/forum/index.php?topic=45.384
2010-07-23
The MNT played against the University of Sto Tomas (UST) this afternoon at the UST Field. The MNT won 5-1
NEW PHIL AZKAL NT STAFF:
MEN NATIONAL TEAM  Head Coach - Edwin "Deding" Cabalida ( Head Coach of the Phil Air Force ) from Dumaguete
MNT Asst Coach - Edsel "Brax" Bracamonte ( Asst Coach of the Phil Air Force ) from Iloilo
MNT Manager - Dan Palami
PFF MEN NT COACHING STAFF w/ PFSA Gen.Sec Jojo Rodriguez ( r.position ).
NEW PHIL NT COACH Deding in middle of pic.
2010-July-21
English priemiere league coach Des BULPIN resigned as NATIONAL TEAM coach of the Philippines...
bec. of an LUCRATIVE OFFER in English Premiere League... BUT a REPORT said he went to poor India.
Filipino caoches overtook the position of Mr. BULPIN.. newspapers wrote !PFF PRESIDENt MARTINEZ said.. this coaches ( from Air Force Manila )
are only assistants and PFF search for a new headcoach.. who will lead the FIL EUROPEAN players to SUZUKI CUP.
More in our FAN Forum with newspaper articles:
12 July 2010
Friendly matches for Men`s NT in Leyte
Leyte FA has reported about two friendly matches against a club from Barotac Nuevo for Philippines Men`s NT (Azkals) when on training camp in Tacloban , Leyte.

2. July Men`s NT - Stallions (Barotac Nuevo) : 3-0 (0-0)
7. July Men`s NT - Stallions (Barotac Nuevo) : 2-0 (2-0)

Training camp finished on Saturday.
2010-05-02
Possible no BELGIUM TRIP BUT only a TRAINING CAMP in LEYTE in June or July.
BUNDESLIGA PRO PLAYER STEFAN SCHRÖCK will PARTICIPATE.
01 April 2010
New FIFA World Ranking for men released today.

Philippines up 2 to number 167
17 February 2010
World Cup coverage may help RP football
By FRANCIS SANTIAGO

Marielle Benitez, captain of the women's national football team, strongly believes that the country's first-ever live TV coverage of the FIFA World Cup in South, Africa starting this June, will be the momentum the sport needs to gain more popularity in the local scene.
Balls, a dedicated 24-hour channel aired on SkyCable 34 and Studio 23, TV stations owned by ABS-CBN, has been granted by FIFA the local coverage of the prestigious tournament, and Benitez thinks this will be a great opportunity for football, the world's No. 1 sport, to draw more interest in a country which has basketball as its top sport.
"For football players like me, it's going to be exciting. This will be one way of reaching out to more people and get them into the World Cup fever," Benitez, a three-time UAAP MVP and member of the RP futsal squad, said during a press conference.
Manila Bulletin
PHILIPPINE  NT will play in summer in BELGIUM  a FRIENDLY GAME ! ( as preperation for Suzukiu CUP )!

German´s famous "11FREUNDE SPORT NEWSPAPER" reported this on its website !!!!!..
HINT: A EUROPE TRIP of a PHILIPINE FOOTBALL NATIONAL TEAM never happened in 102 years of PHILIPPINE FOOTBALL HISTORY!
( source: http://www.11freunde.de/international/127678?page=1 )
Also it was mentioned that MANUEL OTT and OTHER Phil NT players made a PHOTO SHOOTINg w/ the new PHIL NT dresses, the HUGE BANNERS of this PHOTo CAMPAIGn w/ NT players will be published in AUGUST in ALL MAIN CITIEs in PHILIPPINES in OVERDIMENSIONAL SIZES on KEY PLACES OF CITIES!
and: English PHilippine NT coach assistants will join FIFA coach course in Malaysia.
Full story in our Forum: http://cebufa.org/forum/index.php?topic=45.368
03 February 2010
New Men`s FIFA World Ranking out today.

Philippines staying at number 167 with 2 extra ranking points , total 85 points.
2010-01-21:

STATISTIC: Philippines team against Taiwan (Chinese Taipei) o : o

1 GK Eduard Sacapano,2 DF Rob Gier,4 DF Anton del Rosario,16 DF Roxy BongBong Dorlas,18 DF Alex Borromeo,8 MF Manuell Ott,15 MF Roel Gener,17 Jason de Jong,7 FW Ian Araneta,11 FW Yanti Barsales,13 FW Emelio Caligdong,

In : Chris Greatwich 51 min,Joebel Bermejo 61 min,Chad Gould 81 min
Out : Roel Gener 51 min,Manuell Ott 61 min,Ian Araneta 81 min,
UPDATE 2010-01-20:
ABS CBN GOVERNEMENT TELEVISION shows 4 parts report about situation in philippine football. The problem of the PFF ( Philippine Football Federation )  is clearly shown because they missed to build up a registered club Liga system in 100 years, which is standard in most countries around the world.
Reason of a missing club liga system was ( like in other Asia AFC countries ) mostly mismanagement and/or corruption .
Now kids and youth players organized themself , SEARCHING for serious registered clubs.
The ABS CBN FILM not shows solution how players can register in a steady club ( no clubs or assiociation addresses ( like PFSA, NCRFA, HUMANSPORTAID e.V.,  Fc Inter Cebu and and and ) were published ) !
The impressive video is available about our FAN FORUM ...
just go LINK:
http://cebufa.org/forum/index.php?topic=312.msg4662#new
UPDATE 2010-Jan-18
DETAILED MATCH REPORT ( CHINESE TRANSLATION ) available in our FORUM !
Sunday : After few hours of the official FIFA game vs Taiwan ( o : o ) the tired Phil NT played a TEST match vs a local Taiwan college selection club. Philippine NT lost 1:2 ! Randy Bela Ong scored for Philippines. HALF Time  1 goal  each Team.
Philippines played with many substitution players and reseve players to get match practice.
2010-Jan-16
TAIWAN v PHILIPPINES

o : o
( Philippines played in WHITE DRESS )
A  Phil  NT official said:

"We could win 4-1 .. we controled Taiwan and pressured them.
If we were fitter we could win this game clearly.
Everybody did its best."
Philippine NT will play a FIFA Friendly v Taiwan @ 8 p.m. Phil Time ( Europe Berlin Time 1 p.m. ).
LIVE REPORT from the match in our FORUM:
Go here:

http://cebufa.org/forum/index.php?topic=311.msg4642#new
YOU are WELCOME ( MABUHAY ) to join our LIVE game !
15 January 2010
Final team list for friendly against Taiwan (Chinese Taipei)
GK SACAPAÑO, Eduard Ortalla,DF GIER, Robert James Dazo,GK MERCADO, Edmundo Jr.,DF DEL ROSARIO, Anton Edward Quimson,DF BERMEJO, Joebel Bretaña,MF BELA-ONG, Randy Trompeta,FW ARANETA, Ian Bayona,MF OTT, Manuel Gelito,FW GOULD, Chad Edward Alesna,MF GREATWICH, Christopher Robert Barbon,FW BARSALES, Yanti Armentia,FW CALIGDONG, Emelio Asada,DF BALLO-ALLO, Joel Jr. Buenafe,MF GENER, Roel Jimena,DF DORLAS, Bongbong Roxy Vestidas,MF DE JONG, Jason Nicolas Maria Dantes,DF BORROMEO, Alexander Charles Luis,FW SIMPRON, Jovanie Saludares, MF BECITE, Ricardo III Batayola

Bedic , Canedo , Doctora , G. and J. Orcullo and Pascual has been cut from the team. Edmundo Jr Mercado has been included.

Philippines play Taiwan on Saturday. A second friendly will be played on Sunday against Taipei Physical Education College , not Taiwan County as previously planned.
Philippines team for Taiwan(Chinese Taipei) friendlies :
Ian Araneta, Joel Ballo-Allo, Yanti Barsales, Ricardo Becite, Jovin Bedic, Randy Bela-ong, Joebel Bermejo, Alex Borromeo, Emelio Caligdong, Robert Canedo, Jason de Jong, Anton Del Rosario, Martin Doctora, Roxy Bongbong Dorlas, Roel Gener, Rob Gier, Chad Gould, Chris Greatwich, Gerald Orcullo, Jerome Orcullo, Jose Pascual, Manuell Otto, Eduard Sacapano, Jovanie Simpron
Thanks to Chinese Taipei (Taiwan) FA for giving the team list.
They also informed  that this team list will be reduced from 24 to 20 players in final list.
G. Orcullo, Borromeo , Araneta , Caligdong and Roel Gener was in the squad when Philippines met Taiwan in AFC Challenge Cup in 2006 in Bangladesh. Philippines lost 0-1.
Pascual and Ott from Philippines U19 NT. Pascual from Cebu and Ott from Bundesliga 3rd div.  Fc Ingolstadt Germany.
Neil Etheridge , Simon Greatwich and Francis Gustilo missing from last match against Turkmenistan in 2009.

07 January 2010
Beefed-up RP booters join Taiwan tourney
MANILA, Philippines—Crack Filipino-British players Chris Greatwich, Chad Gould and Rob Gier have been recalled to the national football team for the upcoming Taiwan-Philippines Inter-Port Friendship Cup in Kaoshiung, Taiwan, from Jan. 14 to 18.
The trio will join mainstays Emelio Caligdong, Ian Araneta, Aly Borromeo and Anton del Rosario as well as collegiate aces Roxy Dorlas of San Beda and Jovanie Simpron of Far Eastern in the squad that will be handled for the first time by Briton Desmond Bulpin.

The squad, however, will miss key players in Fulham goalkeeper Neil Etheridge and Simon Greatwich, who are sidelined by injuries.

Also included in the national squad, which will also see action in the Asean Football Championships in October, are brothers Gerard and Jerome Orcullo and newcomers Manuel Ott and goalkeeper Paolo Pascual.

The interport marks the first time the team will play since April last year, when they missed out on a berth in the 2010 AFC Challenge Cup after losing three of their four matches in a qualifier in the Maldives.

Cedelf P. Tupas , Inquirer.net
04 January 2010
New RP football coach optimistic
BRITISH football
mentor Desmond Bulpin will make his coaching debut for the Philippine national team during the Philippine-Taiwan Inter-Port Friendship Cup in Kaoshiung, Taiwan late this month.
Having served in various capacities in English clubs, hopes are high that the 58-year-old Bulpin could turn the fortunes around of the national squad, which has failed to qualify in its last two international tournaments.
"It's a massive challenge, but we have to get on with it," Bulpin recently said.

Bulpin will get his baptism of fire in the four-day tournament where the Filipinos will go up against the Chinese-Taipei national team on Jan. 16 and a club team from Kaoshiung on Jan. 18.

Bulpin has worked for Premiere League team Tottenham Hotspur, where he served as youth team coach and discovered current England international strikers Peter Crouch and Jermain Defoe. He also had managerial stints in Singapore and Uzbekistan.

He vows to turn the nationals into an "organized team that pressures other teams, plays a high tempo and moves the ball quickly."
2010-01-03:Philippine NT players Jason de Jong ( 2nd div. Belgium ) and Manuel OTT ( 3rd div. Bundesliga Fc Ingolstadt ) arrived in Manila. Manuel OTT was nominated through PFF based on strong performances in his club and U19 Phil NT .
News from Taiwan (Chinese Taipei) FA website.

Philippines will play the friendly against Taiwan NT in Kaohsiung on 16. January ,18.00 local time and in World Games Stadium . Capacity 40.000 !
They will also play a friendly at same venue next day against Tainan County, a team in Taiwan local 1. Div league.

Neil Etheridge , Philippines goalkeeper is injured and doubtful for the friendlies
Bundesliga Stefan Schroeck will also not play coz of Bundesliga schedules and FA pocal match v FC Bayern München.
Jerry Lucena ( 1st div. Denmark Aarhus FC ) commmited to like to play in advance Philippine NT but  his paper allowances are not ready yet.

Pictures  show new PHIL NT coach Des Bulpin ( r. ) and Fil Foreigner striker Denis Wolf ( FC Magdeburg )
UPDATE 21:
PHILIPPINE NT will play vs a CHINA CITY CLUB in  QUACHING in TAIWAN and an OFFICIAL FIFA recognized FRIENDLY vs R.O.C TAIWAN in TAIWAN mid January. So 2 MATCHES are COMMITED now !!!!!
UPDATE Dec 19:
ALSO DENIS WOLFF (on pic  r.s.) would be ready to play for AZKAL PHILIPPINE NT if new phil coach  Bulpin ( pic l.s. ) would call him!!!.
DENIS WOLF playing in FC MAGDEBURG ( 4 Th Divison AFTER EXPERIENCE w/ BUNDESLIGa 3rd Div . in ERFURT ) . DENIS is FORWARD /STRIKER which AZKALS would need much ! More INFOS http://1.fc-magdeburg.de/mannschaften/erste.html,7
Philippines can play in Suzuki Cup Qualifier  2010 in LAOS !!!!!!!!!!!!!!!
Bundesliga STEFAN SCHRÖCK , who can NOT play in TAIWAN mid Jan., are ready to play for the PHILIPPINE NATIONAL TEAM then !!!!!
INTER MILAN FILIPINOs ( 3 YOUTH PLAYERs ) in ITALY should be TRANSFERED TO SWISS 1 ST DIV. CLUBS like Lugano FC !


Philippines Men`s NT friendlies in Chinese Taipei !
Philippines Men`s NT will play a friendly against Chinese Taipei (Taiwan) in Kaohsiung , Chinese Taipei.

Match will be played 16. January.

Source : fifa.com
HINT: THE PHIL NT will play also v 2 CITY CLUBS
STEFAN SCHRÖCK will NOT PLAY ( his manager said ) .. also MANUEL OTT´s decision  is unclear )


Nov.19: " A season program is planed for the men Phil National Team running Jan. - May 2010", said PFF Pres. Martinez.
The Men NT should particpate in AFC challenge Cup qualifier and also AFC Suzuki Cup.
On 28 Nov. the AFC will schedule the Tournaments in which Philippines can participate.

A PFF insider said: " If PFF President waste all the money like before, Philippines will not participate in any intl. tourney !".
Also he said.. "it will be interestiing who will manage the 7 players from England, 1 player from Netherland, 2 players from Germany and 2 players from Italy ( Inter Milan ) . Many of them not know about their schedules and also the homegrown NT players not know anything about plans of PFF President Martinez. Seems the UFL league has to stop if NT players are needed by PFF!" , the source said.
November 17, 2009 08:42 PM
RP ranking in football improves
With the expected arrival of British coach Desmond Bulpin, who will be tasked to handle the program and training of the Philippine team, the Philippine Football Federation (PFF) hopes the country's ranking in world stage will steadily rise in the years to come.
Based on the latest standings, the Philippines is now ranked No.. 155th in the FIFA-Coca Cola World Ranking – a marked improvement from its 190th place the previous year.
While the country is still way below the class of even ASEAN neighbors like Singapore, Thailand, Vietnam and Malaysia,the big jump in the standings, according to PFF General Secretary Cyril Dofitas is already a huge achievement.

"This is very encouraging for our national team, knowing that we have improved in the football world, our players will be motivated to play better," said Dofitas.

Dofitas attributed the improvement to several factors but the biggest of it all he said is "our attendance in the international competitions. We have been continuously participating in international tournaments."

"This is a very good way of telling the world that the PFF is doing everything to improve our image abroad," said Dofitas, who added the Bulpin is arriving this week to start molding the RP team to one big, fighting unit.

The other factor, he said, is the continuous strengthening of its grassroots and various programs.

"PFF strongly believes that the success of a football program will not come overnight, it's a long process. We should focus on the kids since given proper training and education, we're very sure they will embrace the sport till they grow up," added Dofitas.

"Hence, developing young minds and bodies at an early age in the direction of the game of football is a must."

PFF technical Director Jose Ariston Caslib said the commitment of the coaches and players to upgrade their technical know-how also contributed to the improvement despite budget constraints.

"The PFF hopes to create more football activities and seminars on the provincial level around the country as part of its development programs. In line with this is the continuous conceptualization of technical programs for coaches and referees," said Caslib.

"It has been a grueling yet very competitive year for Philippine football. This year marks many developments for the PFF," he added.

Earlier this year, an all Filipino football club was founded in the United Kingdom, the Philippine United Football Club (PUFC) – the first and only official all-Filipino club based in Europe.
New Phil NT Coach Des Bulpin Background (read BBC story June 2007 ):
Trio join Leicester backroom team
Leicester manager Ian Holloway has added Tim Breacker, Des Bulpin and Gary Penrice to his backroom staff at the Walkers Stadium.
Breacker and Bulpin have been appointed as Holloway's assistants, while Penrice will be head of recruitment.
Penrice became Holloway's number two at Bristol Rovers in 2000 and has followed him to QPR, Plymouth and now Leicester.
Bulpin has coached at Tottenham and had spells at Stockport and QPR and worked with Uzbekistan's national team.
09 November 2009 UK coach to train football team
The Philippine Football Federation (PFF), headed by Mari Martinez, has hired a veteran British football coach to handle the program and training of the national team in the hope of energizing the sport in the country.

Martinez said Desmond Bulpin arrived in the country two weeks ago during which he observed and assessed the training of the members of the RP team pool for three days before finalizing his agreement with the PFF to head the country's coaching staff.

Martinez said football enthusiasts Dan Palami and Henry Tsai will shoulder the expenses of Bulpin during his stay here in Manila.
The country is lagging behind even in the standard of South East Asian competition but Martinez believes the arrival Bulpin will help the Philippines recover from a spate of misfortunes – the latest of which was during the Asian Under-16 tournament.

Public awareness and the right people to run the daily affair of the team, Martinez stressed, are needed to keep football going in the country.

"Mr. Bulpin would be a big help for us in attaining our goals for the future of Philippine football. Football is the world's most popular sport and it's high time for us to improve our chances in competition locally and internationally," said Martinez.

Bulpin is coming next week and will be bringing with him 25 years of experience in various capacities in major leagues in Europe.

The British coach, according to Martinez, was impressed with the work ethic and passion of the members of the national pool.

"I'm excited to work here and I enjoy the challenge seeing talent progress," said Bulpin.

Though Bulpin admits that it will entail a lot of hard work and time to whip up the Filipinos into a highly-competitive team, he would like to face the challenge head on.

"It will also be a lot of fun," he added.

PFF also plans to hold an exhibition game between the future RP team against a Fil-British team (Philippine United Football Club) next year.
Source : Manila Bulletin
Based on words of Philippine Men NT players:
PFF Pres. MARTINEZ said;
"Philippines will get an english manager w/ 1 year contract and Philippine Azkals NT will play in January."
Seems no Phil NT game(s) in Febuary coz AFC changed schedules !!!!!
OTHER NT players got surprised and couldn´t commit concrete action of PFF! A PFF Insider said. "What r d tasks of d english manager? Many players are not informed and getting unsure." !
The Philippines ( PFF consultant Mr. Schunk said ) can go for AFC Challenge Cup QUALIFIER 2011
( which will take place  in Feb. 2010 ).
The AFC Challenge Cup Final for 2010 ( for qualifier winners in 2009 )  is in AUGUST 2010 ( w/OUT PHILIPPINES )-
Also Philippines can go for ASIA CHAMPIONSHIP which take place in May 2010.
Additional good news:
Jerry Lucena committed to PFSA that he is "FURTHERON interested to play for Philippine NT".
PFF Consultant Alfons Schunk will discuss this important issue with PFF Pres. Martinez.
HINT:
The new liberal rules of FIFA can be now in advance to Jerry , so that he can get a special player passport to play in advance PHIL NATIONAL TEAM !
Last Updated on Monday, 31 January 2011 08:11